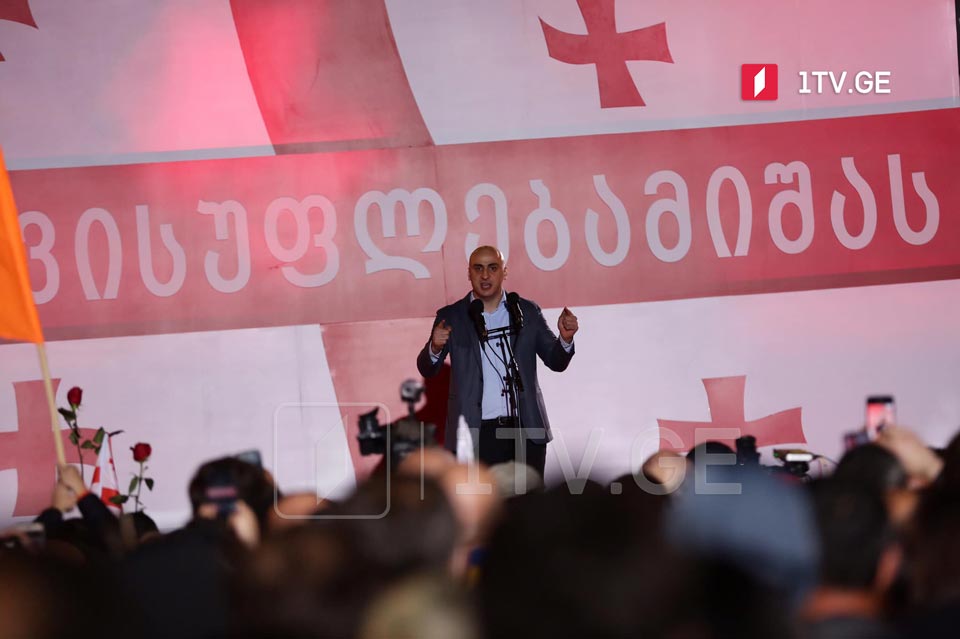 Nobody to hope UNM to quit struggle until third president freed, UNM Chair states
Nika Melia, a Tbilisi Mayoral candidate and Chairman of the United National Movement (UNM) party, said nobody should have even a slight hope that the UNM would quit struggle until the third president of Georgia Mikheil Saakashvili is released. Melia made this say from the scene at the rally in support of Mikheil Saakashvili on Freedom Square in central Tbilisi. Melia claimed that nobody would give up until the victory.
UNM Chair thanked people and representatives of other opposition parties for sharing the pain and threat of the oligarchic regime that deprives Georgian people of freedom.
Melia further elaborated that historically Georgians can unite, and political victory is impossible without moral winning. Melia also warned Bidzina Ivanishvili of more people flooding the streets to protect their dignity if the October 30 runoff is rigged. "Nobody will defeat us because we are frank," Melia stated.
Nika Melia stated the only plan forward is the victory. He called on everybody to go to the polls since high turnout has paramount importance. "Each of us and everybody together will write history," he said, adding that the historical date is close.
In the end, Melia asked the gathered crowd to sing the Georgian national anthem together.
The rally organized by the opposition United National Movement (UNM) party under the slogan Free Misha was held at Freedom Square in Tbilisi in support and solidarity with imprisoned ex-president Mikheil Saakashvili. UNM supporters and people arrived from different regions of Georgia to join the protest.