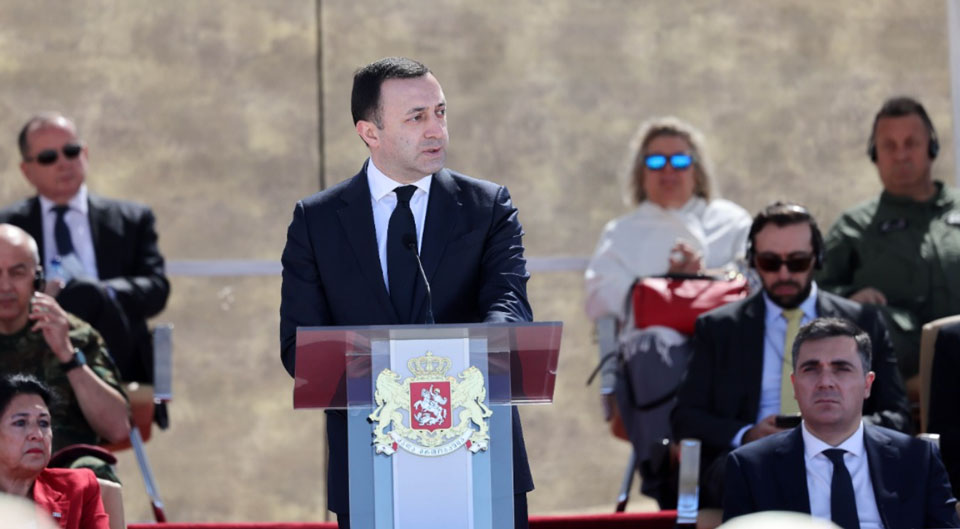 PM: Noble Partner consistent step towards deepening int'l cooperation, army professionalism, NATO interoperability
The multinational exercise Noble Partner 2022 ended on Friday at Vaziani Military Base.
During a closing ceremony, Georgian Prime Minister Irakli Garibashvili said, "Noble Partner is another consistent step towards deepening our international cooperation, the professionalism of our praiseworthy army and interoperability with NATO."
The PM thanked the military personnel involved in the drilling.
"I would like to express my special thanks to our applaudable servicemen for anew demonstrating their high professionalism and responsibility.
I would also like to express my special thanks to our main strategic partner, the United States, for their contribution to the organization and execution of the exercise. Our cooperation and partnership are strong with growing dynamic, aimed at strengthening our nation's defence capability and resilience," Garibashvili underscored.
The multinational exercise Noble Partner 2022 kicked off on 29 August at Vaziani Military Base, outside Tbilisi, Georgia.
More than 2,400 servicemembers from 21 countries were involved in this year's drills, including troops from Japan and Sweden for the first time.
Georgian Defense Forces and U.S. Army Europe cooperatively-led exercise hosted at Vaziani and Camp Norio training areas designed to enhance Georgian, regional partner, and U.S. force readiness and interoperability in a realistic, multinational training environment.
The exercise allows participants to conduct situational training exercises, live-fire exercises, and combined mechanized manoeuvres.
#FiresFriday… Is that a thing?

Exercise #NoblePartner provides the perfect opportunity for @USArmy #Soldiers assigned to 1st BN, 54th SFAB, to #train alongside Georgian Defense Force soldiers at the Vaziani Training Area, Georgia. #StrongerTogether @US_EUCOM @armysfabs pic.twitter.com/bXzIfhFexY

— U.S. Army Europe and Africa (@USArmyEURAF) September 9, 2022