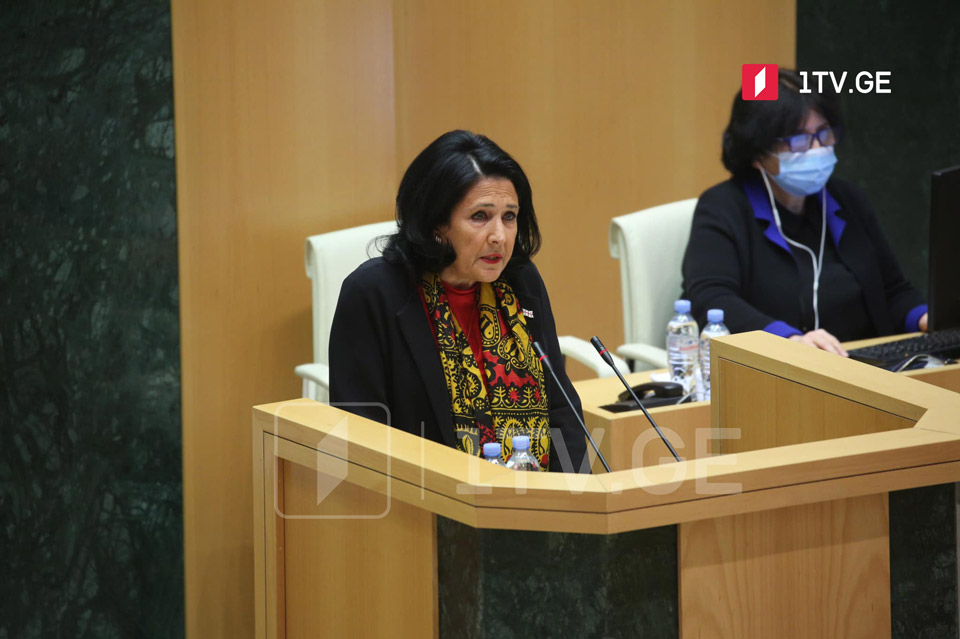 Georgian President: criticism of diplomats to be arrogance, Georgia needs multiparty parliament
Georgian President Salome Zourabichvili says the country should start a new phase now. The President made this statement opening the first session of the newly convened parliament.
According to Salome Zurabishvili, Georgia needs new policies based on the country's values and real resources. And those new policies, the President said, cannot be about confrontation, division, and disintegration.
I am very sorry that part of this parliament has chosen to stay out. The responsibility requires everyone to be united today, in this situation, and use all our capacities. I hope that this parliament will be filled as needed, that this parliament will be the multiparty parliament that this country needs, Salome Zurabishvili said.
As part of the destructive campaign those, whose role is important for our stability and development, have been attacked, the President of Georgia said in her address to the Parliament of 10th Convocation.
The infamous statements made towards the diplomatic corps are, first of all, arrogance! It is incomprehensible when we ask them to be involved in our internal processes and mediate. It is unacceptable when the country expects more cooperation and solidarity from the international community, Salome Zourabichvili reacted to the recent criticism of the facilitator US and EU Ambassadors by the opposition parties.
The President also addressed the media. Saying the media, which freedom is the guarantor of democracy in the country, harms itself when succumbs to polarization, engages in political struggle, and is used as a political tool.
By discrediting themselves, the media may lose its function and public trust. The fake news is also a big challenge. The media must deal with these challenges with professionalism and impartiality, which is a necessary condition for the development of society, Salome Zourabichvili concluded.