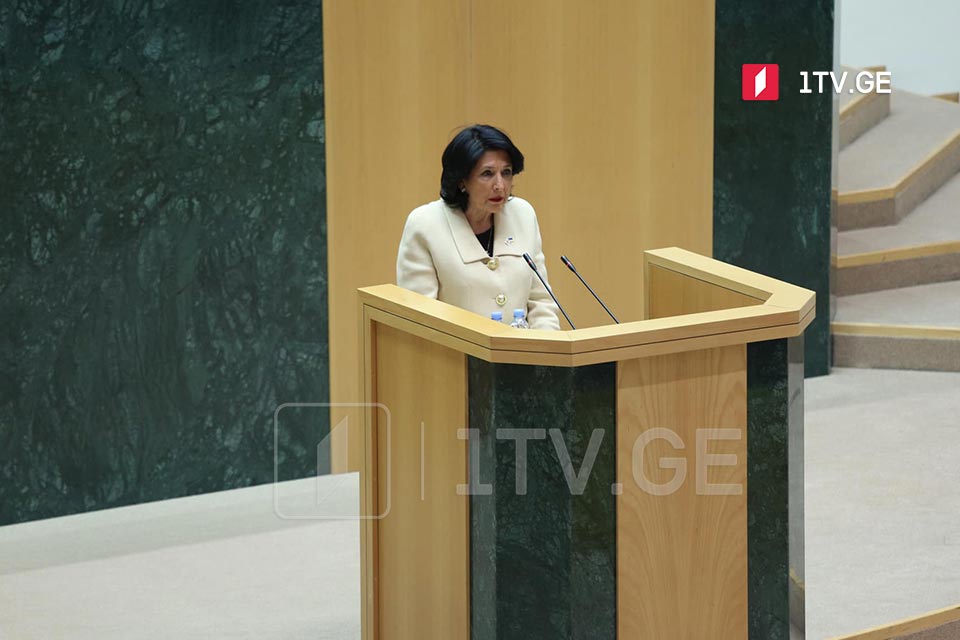 Georgian President addresses Parliament, urges Zelenskyy to return Ukraine's Ambassador to Georgia
Georgian President Salome Zourabichvili presented her annual report to the Parliament today. She showed up with a representative of the Ukrainian Embassy in Georgia, Andrei Kasanov. After a minute's silence, the Ukrainian national anthem was played in the session hall, followed by the President's speech and messages of support.
Here are the main takeaways of her speech:
The President stressed the need for unity as Georgia is facing enormous challenges. "Today is a watershed moment for everyone, including Georgia, as we are facing significant challenges, which might become even more acute tomorrow. However, as history shows, crises and wars bring new opportunities along with challenges. New roads are opening up. On this new path, Georgia must take its place in a flash."
She continued: "We need to understand what is unfolding and prepare for every possible event, instead of sitting idly, waiting for what the future holds. That is why I do not understand, and I can not tolerate that at such a crucial stage, you, gathered here, forget what our coat of arms read: 'Strength is in unity," instead of ending quarrels, enmities, destructive confrontations and polarizations.
"Society is much soberer than you are, conscious, brave and, most importantly, united. Today I see that the signs of the national accord have been awakened among people, but I do not see it in you [MPs]. Do you not understand you are accountable to your people," the President asserted.
In her address, Zourabichvili called on the government and the opposition parties to spare no effort to reach a common stance regarding the EU membership and Ukraine crises. Welcoming the country's EU membership request signed by Georgian PM Irakli Garibashvili and the resolution being drafted in Parliament, she called on MPs to adopt it unanimously.
The President pledged that Georgia has been standing with Ukraine and Ukrainian people amid the ongoing war there, noting that "Georgians have the best understanding of the Ukrainian nation challenges amid the Russian invasion," as both countries passed the same "path of liberation from the Russian Empire."
Zourabichvili also urged her Ukrainian colleague Volodymyr Zelenskyy to return Ukraine's Ambassador to Georgia "so that the connection between the two nations strengthens, becomes closer and more unwavering amid challenging times."
Prime Minister Irakli Garibashvili, the government members, representatives of the diplomatic corps and the clerics attended today's session.
Horrible scenes unfold before our eyes.

The relentless struggle of Ukrainians in their selfless struggle against Russian aggression can only evoke in us respect, solidarity, and support.#SlavaUkraini pic.twitter.com/Io3Logciis

— Salome Zourabichvili (@Zourabichvili_S) March 14, 2022