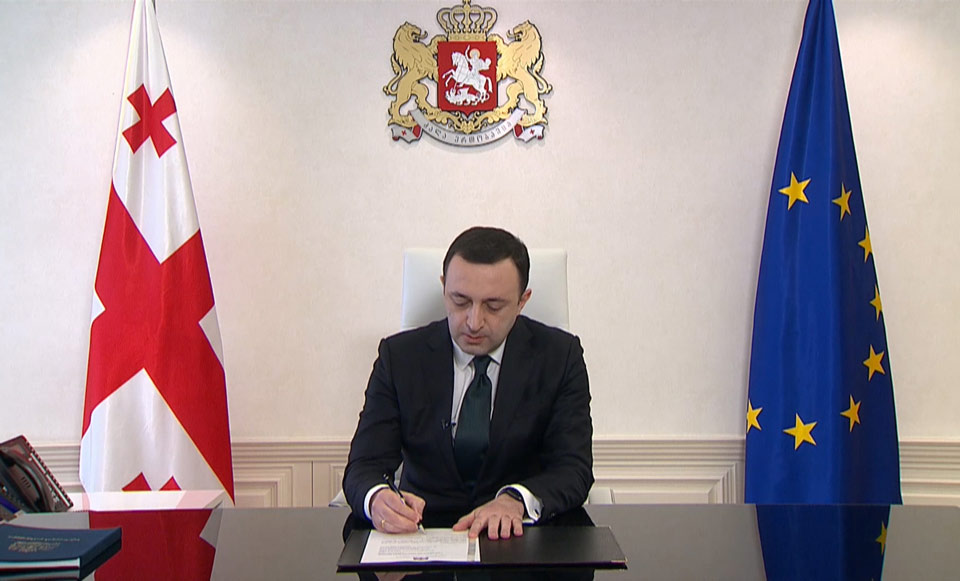 Georgian PM signs application to join EU 
Georgian Prime Minister Irakli Garibashvili on Thursday has signed an application for EU membership.
PM said, "applying for EU membership is another important stage on Georgia's path to European integration," stressing that "history has deemed the European choice of the Georgian people as its strategic aim. Since gaining its independence, our country has been consistently progressing and this day is yet another manifest of our effort."
"It is a historic day for Georgia – we are signing an Application for EU Membership on behalf of the country. Application for EU Membership is yet another milestone on the path of European integration of Georgia – it is a stage, which turns a new page in our history and continues the effort of our ancestors, which is aimed at the accession of Georgia into a common European family.

Georgia is a European state. Our country has always belonged to European culture and civilized space throughout its long history, and continues to make a valuable contribution to its protection and development. Being European is nothing, but a unity of values and principles, which shape Europe. History of Georgia, which is a track record of fights and battles for freedom, is an evidence of these values being enshrined in the character of a Georgian person and therefore an undividable part of its identity," he underscored.
Garibashvili stressed today Georgia is closer to the EU as never before, noting that, "European future is a program and uncontested action plan of every Government of Georgia entrusted by the people of Georgia."
"In 2014, when I signed the Association Agreement between the European Union and Georgia in the capacity of the Prime Minister of Georgia, we assumed a tremendous responsibility towards our country and people to successfully start our journey of European integration and to make a strong and solid foundation to the eventual Europeanisation of our country.

It deserves pride to have a consistent performance of our authorities and public support since 2014, Georgia is successfully delivering its commitments assumed under the EU Association Agreement in the capacity of an Associated Partner and has made significant progress towards legislative, economic and political approximation with the EU.

Democracy, rule of law, human rights and good governance have already turned into the essence of our daily existence. We are actively introducing European norms and standards in every field of our political, economic and social life.

Citizens of our country are benefiting from a visa-free travel arrangement within the EU/Schengen zone, which is a remarkable opportunity for a close interaction of our societies and nations.

Free trade with the EU enables us to achieve a gradual economic integration into one of the largest markets of the world. Modernization of the country in line with the European standards is irrevocable in a whole range of sectors has become irreversible," PM asserted.
Today is a historic day for ??, we have officially applied for the Membership of the European Union ??. We have proved that we are a part of the European family & ?? path is an irreversible choice for the Georgian people! pic.twitter.com/ysaj1JCOY6

— Irakli Garibashvili (@GharibashviliGe) March 3, 2022
The ruling Georgian Dream Chair Irakli Garibashvili yesterday announced that Georgia would apply for the European Union candidate status at an accelerated pace.
Kobakhidze said the GD Political Board made this decision per the new reality and political context against the previous plan to apply officially for EU membership in 2024.
However, GD Chair stressed that filing a strong application in 2024, backed by new reforms envisaged by the Georgian Dream's election program, would have had an advantage over applying expeditiously.