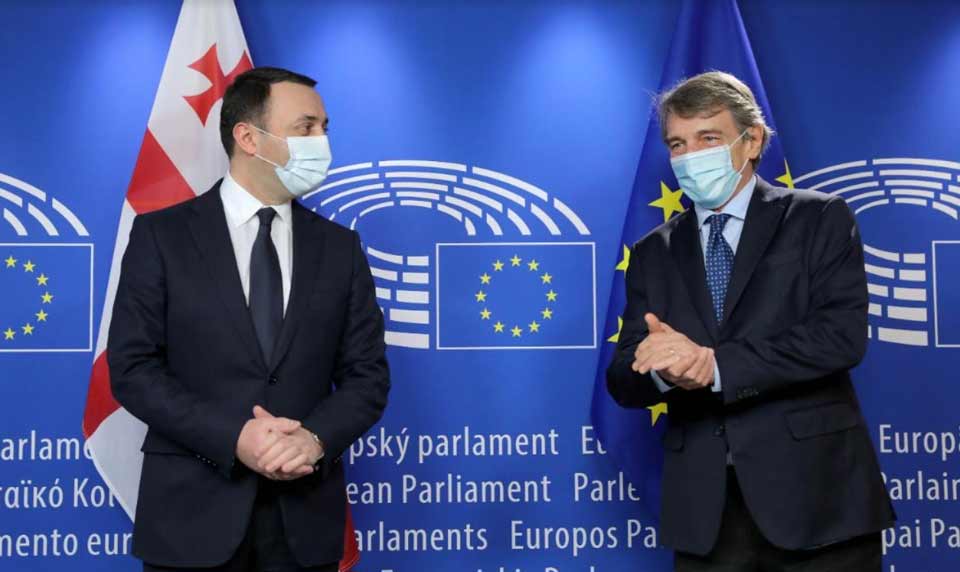 Georgian PM meets European Parliament President
Georgian Prime Minister, Irakli Garibashvili, met with the President of the European Parliament, David Sassoli, in Brussels on Wednesday.
Met @EP_President. EP's support to ??'s ?? integration, democratic devt., sovereignty & territorial integrity is invaluable. Thank you for recognizing ?? as EU's key partner in the region. We hope to see EP's active involvement in the preparations for the upcoming #EaP Summit. pic.twitter.com/pkjAw3amXf

— Irakli Garibashvili (@GharibashviliGe) March 17, 2021
The government reports that the parties discussed Georgia's ongoing political process, progress on the EU integration path, and a plan to apply for EU membership in 2024.
"The officials addressed the dire humanitarian situation in the occupied territories of Georgia. PM said the government prioritizes de-occupation and the peaceful settlement of the conflict. He also stressed the EU's support in this process. Georgia is the European Union's main partner in the region. The Prime Minister once again thanked the EU for its efforts to mediate and de-escalate the ongoing processes in the country," the press statement reads.
The meeting also highlighted the final report of the OSCE/ODIHR EOM on the Georgian parliamentary elections. The elections were once again confirmed competitive with fundamental freedoms protected.
David Sassoli reaffirmed the European Parliament's strong support for Georgia's sovereignty and territorial integrity and European and Euro-Atlantic integration.