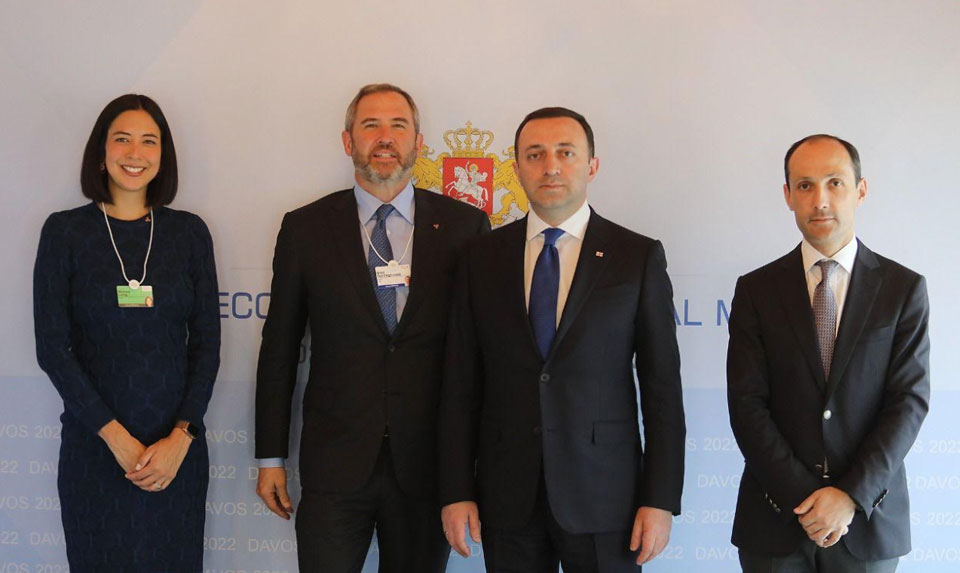 Georgian PM, Economy Minister meet CEO of Ripple Labs Incorporated in Davos
Irakli Garibashvili, Georgian Prime Minister and Economy Minister Levan Davitashvili Monday met with Brad Garlinghouse, Chief Executive Officer (CEO) of Ripple Labs Incorporated within the scope of his visit to Davos.
The PM proposed to the CEO of Ripple Labs Inc. to open a Corporate Service Centre in Georgia, thereby noting that the country prides itself with favorable investment climate and stable location, the Government reported. 
It was noted that citizens of Georgia are given new opportunities by the EU-Georgia Association Agreement (AA), while the Government has recently filed an EU Membership Application and expects a respective decision of the European Commission.
The PM said the domestic market is favourable for the development of digital assets and it advances with a fast pace. It was also noted that young, experienced and competitive human capital makes Georgia fit for a multifunctional global and regional hub for financial services, technological and innovative industries. With its reputation and friendly business environment, Georgia has shaped into a global leader with its ease of doing business. Country ranks among the developed markets including the USA, Singapore, Denmark, Norway and UK.
Garibashvili noted that a preliminary project of a legal framework has been developed to regulate virtual assets in the country. Draft legislation is being scrutinized with various interested stakeholders at present and it will thereafter be submitted to the Parliament of Georgia. Drafting of the regulations should be completed by the end of the year.
It was also noted at the meeting that the country is successfully using the Blockchain technology and that Georgia is the first country in the world to introduce the Blockchain technology in the public sector, namely in the process of land registration, resulting in the cutting the operation costs by 30%.
Discussions were also related to FTX Crypto Derivatives and the visit of the digital markets association to Georgia. The Prime Minister noted that regional presence of FTX is intended to be launched in Georgia and this matter is currently negotiated with representatives of the company. Launch of a regional presence will create a supporting environment for the financial market of digital assets of the future.
Ripple Lab Incorporated is the largest American Blockchain company, capitalization of which exceeds 20 BLN USD. Company operates in leading countries of Europe and USA, including the USA, Mexico, UK, France, Ireland and Italy.
Great talks w/ @Ripple CEO @bgarlinghouse! Shared 🇬🇪's vision on future of blockchain & regulation. W/ business centric environment & innovative approach, we aim to evolve as a tech & innovations hub. Shared 🇬🇪's story as the 1st country to bring #Blockchain in public services. pic.twitter.com/x6NHoRLqml

— Irakli Garibashvili (@GharibashviliGe) May 23, 2022