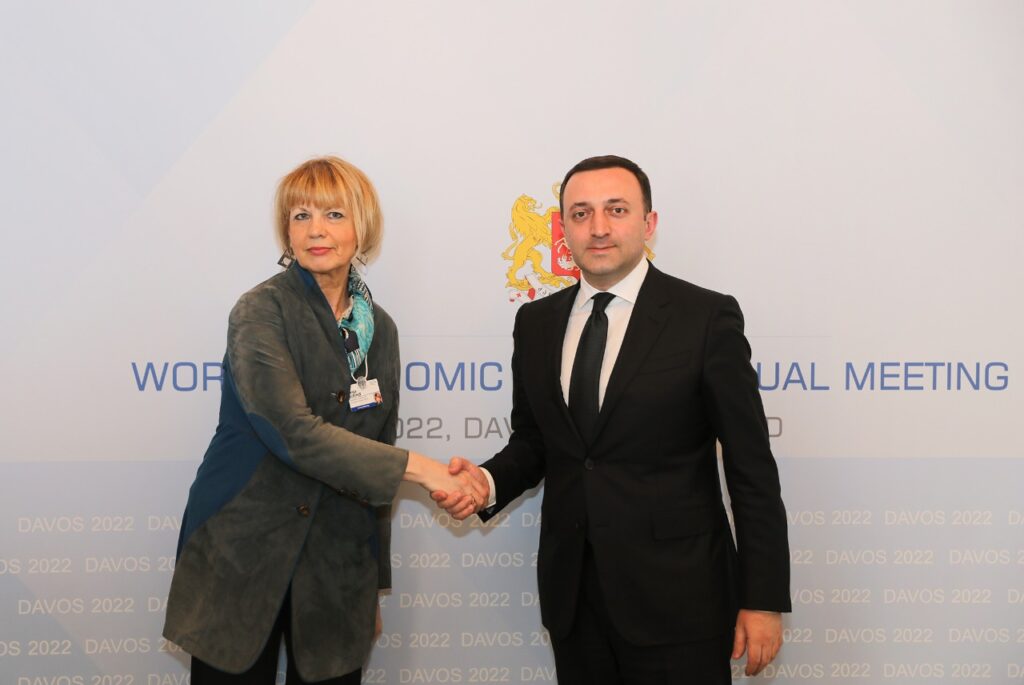 Georgian PM holds meetings in Davos
Cooperation between Georgia and OSCE, current military activities in Ukraine and the security environment in the region were among the main topics of discussion at a meeting between Georgian Prime Minister Irakli Garibashvili and OSCE Secretary General, Helga Maria Schmid, in Davos.
PM expressed gratitude for the efforts made towards a peaceful conflict resolution and rebuilding trust among the war-torn communities in Georgia, stressing the role of an OSCE Co-Chairmanship in the Geneva International Discussions (GID) and within the format of incident prevention and response mechanisms.
Very productive talks w/ @HelgaSchmid_SG @OSCE amid such decisive times for our region & wider European security architecture. We highly appreciate @OSCE's valuable engagement in the peaceful conflict resolution process in 🇬🇪. #WEF22 pic.twitter.com/fyuDQQNUvE

— Irakli Garibashvili (@GharibashviliGe) May 24, 2022
Georgian PM Garibashvili met his Moldovian counterpart, Natalia Gavrilița, as part of his visit to Davos.
PMs spoke about the EU Membership Applications and priority directions required for EU integration. Irakli Garibashvili noted that EU integration is a historic choice made by the Georgian people.
Excellent discussion w/ 🇲🇩's @natgavrilita. 🇪🇺 membership is a shared goal & civilizational choice of our people. We will continue to actively work together in this journey. Reiterated 🇬🇪's unequivocal support for 🇲🇩's sovereignty & territorial integrity. #WEF22 pic.twitter.com/E6QVpOXenF

— Irakli Garibashvili (@GharibashviliGe) May 24, 2022
During the meeting, Georgia PM and Lithuanian President Gitanas Nausėda discussed close partnership and prospects of further deepening relations between countries. PM spoke about the importance of the EU Membership Application, noting that Georgia hopes to get solid support from partners.
Had a productive conversation w/🇱🇹'@GitanasNauseda. Bilateral agenda and new opportunities for deepening economic co-op between two countries discussed. Touched upon European & Euro-Atlantic integration of 🇬🇪. Grateful for 🇱🇹's supportive position in this process. #WEF22 pic.twitter.com/E9E9Dvy2CI

— Irakli Garibashvili (@GharibashviliGe) May 24, 2022
Georgian PM also met his Croatian counterpart, Andrej Plenković. Sides reviewed the prospects of deepening cooperation between the two countries.
Pleasure to meet w/ my 🇭🇷 colleague @AndrejPlenkovic. Talked about 🇬🇪's European integration path & deepening economic co-op. Emphasized the importance of enhancing the Black Sea security & intensifying bilateral co-op in this regard. #WEF22 pic.twitter.com/z3cUKSdA3R

— Irakli Garibashvili (@GharibashviliGe) May 24, 2022