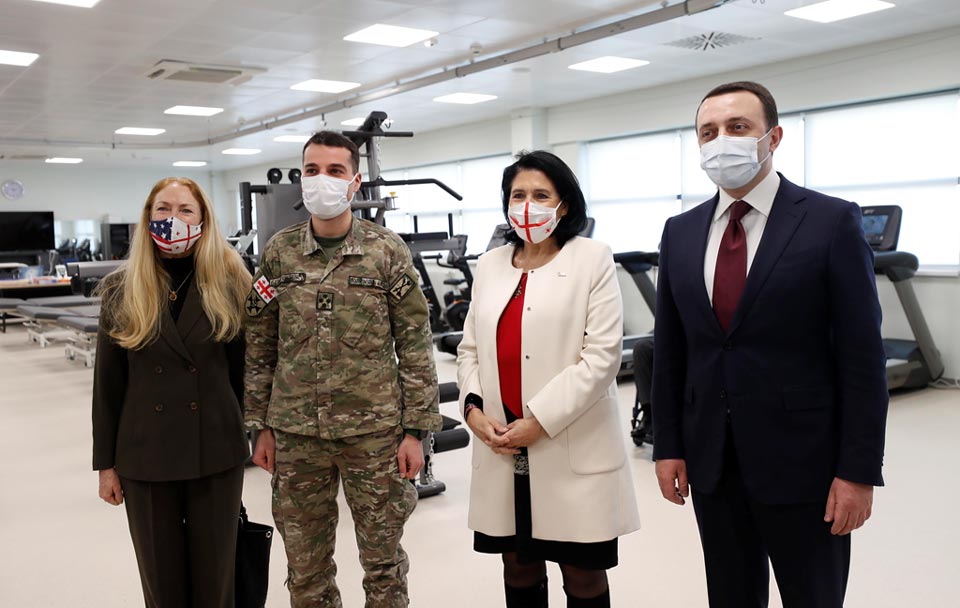 Georgian officials, US Ambassador tour Maro Makashvili Wounded Warrior Rehabilitation Center
The Day of Wounded Warriors, established last year at the initiative of the Georgian Defense Minister, was marked at the Maro Makashvili Wounded Warrior Rehabilitation Center in Tserovani.
The President of Georgia Salome Zourabichvili, the US Ambassador to Georgia Kelly Degnan, and Defense Minister Irakli Gharibashvili attended the event.
Salome Zourabichvili addressed the guests and stated that the unbreakable spirit, heroism, and dedication of the Georgian soldiers indicates that Georgia is a reliable and trustworthy partner in this fight.
"This rehabilitation center is named after Maro Makashvili, a young woman who fought for Georgia's independence, sacrificed herself in this struggle and became a symbol of the independence of Georgia. It is symbolic that the Maro Makashvili Wounded Warrior Rehabilitation Center opened today, 100 years after Russia occupied Georgia. It is also a symbol that we will neither forget the occupation nor accept it!" Georgian President declared.
The Defense Minister focused on the US support in opening a new rehabilitation center. Gharibashvili expressed his gratitude to American friends and emphasized their contribution to the development of the defense forces. Defense Minister also spoke about his ministry's social policy. One of the main directions is to care for the wounded military servicemen and to develop multifaceted opportunities for them.
The US government provided a $4.2M grant for the construction of the new 2,050 square-meter modernized wounded warrior rehabilitation center for the Georgian Armed Services. The center will provide Georgian soldiers critical physical and occupational therapy.