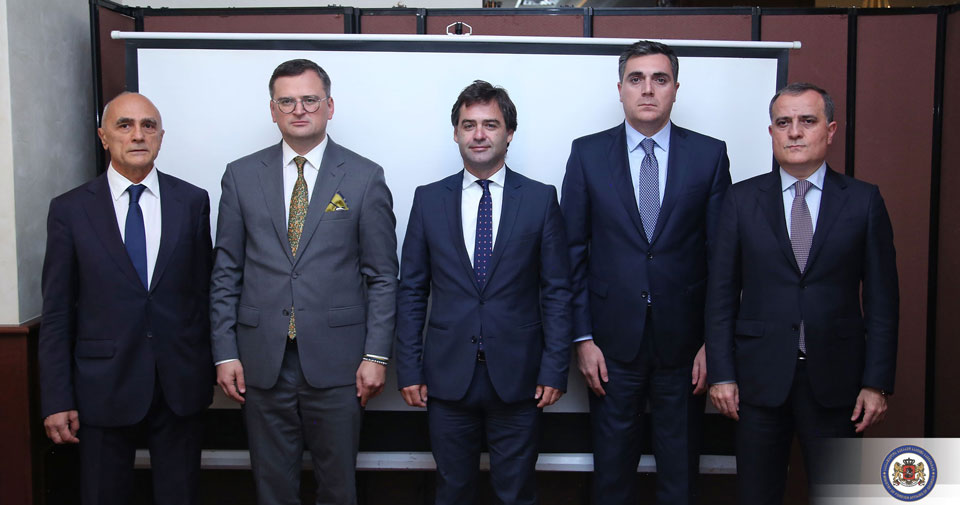 Georgian FM attends GUAM Council of Ministers in NY
Georgian Foreign Minister Ilia Darchiashvili attended the 39th Meeting of the GUAM Council of Ministers of Foreign Affairs (CMFA) on Tuesday in New York.
On the sidelines of the 77th Session of the UN General Assembly, the FMs of Georgia, Azerbaijan, Moldova, and Ukraine, and the GUAM Secretary General, Altai Efendiev,
discussed
political interaction within the GUAM format, as well as sectoral and organizational cooperation.
Foreign Minister Darchiashvili briefed his colleagues on the current situation and security environment in the occupied regions of Georgia.
Glad to meet my🇦🇿🇲🇩🇺🇦 colleagues @bayramov_jeyhun, @nicupopescu, @DmytroKuleba within the GUAM Council of Ministers. Grateful to Moldova for successful chairmanship& welcome the signing of agreements on trade& consular affairs. We discussed the security environ across the region. pic.twitter.com/QK1GgAUZ9h

— Ilia Darchiashvili (@iliadarch) September 20, 2022
The attendees emphasized the importance of strengthening regional cooperation and involving international partners amid Russia's ongoing war in Ukraine.
The Parties signed the Protocol on rules for determining the country of origin of goods to the Agreement on the Establishment of a Free Trade Area between the Participating States and the Convention of the Organization for Democracy and Economic Development–the GUAM Member States on Mutual Assistance in Consular Matters.