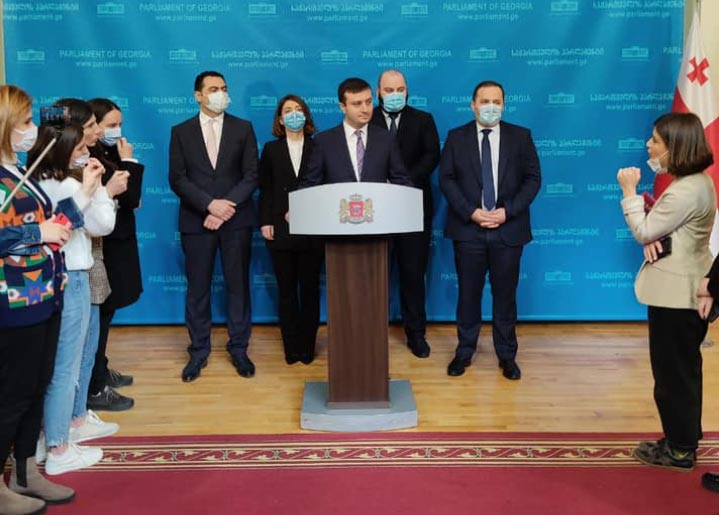 Ex-GD MPs vow to address immediate challenges
Six MPs quitted the ruling Georgian Dream (GD) party on Wednesday, having explained the decision by GD's failure to solve the immediate challenges facing the country.
MPs, Giorgi Khojevanishvili, Beka Liluashvili, Ana Buchukuri, Alexander Motserelia, Mikheil Daushvili, and Shalva Kereselidze pledge to set up a new party with the former Georgian Prime Minister Giorgi Gakharia.
Giorgi Khojevanishvili claims the Georgian government should address the bulk of challenges, COVID-19 pandemic, economic crises, poverty, instead of a political row.
Beka Liluashvili thinks a responsible political force should tackle current social-economic or health-related challenges, but the government fell flat.
Ana Buchukuri says all the six MPs would kick off active work to set up a new political party.
MPs vow they would inform the public of more details shortly. Former members of the ruling party will continue working as independent MPs.
Earlier in February, Gakharia resigned over the detention of the opposition United National Movement (UNM) party leader Nika Melia, saying the move could cause political escalation.
Melia has been accused of organising mass violence during anti-government protests in 2019. UNM Chair rebuffs the charges but faces a nine-year sentence if convicted.
The tension rose high after the 2020 parliamentary elections. Georgian opposition parties that won seats in the Georgian Parliament of the 10th Convocation believe the 2020 parliamentary elections were a fraud. They have been demanding repeat parliamentary elections and the release of the United National Movement Chair, Nika Melia, and the co-founder of the TV channel Mtavari Arkhi Giorgi Rurua.
The second EU-mediated attempt to solve political crises in Georgia failed again. EU mediator Christian Danielsson said he proposed a solution that puts the country's interest first to the parties, but none of the political actors agreed on the solution.