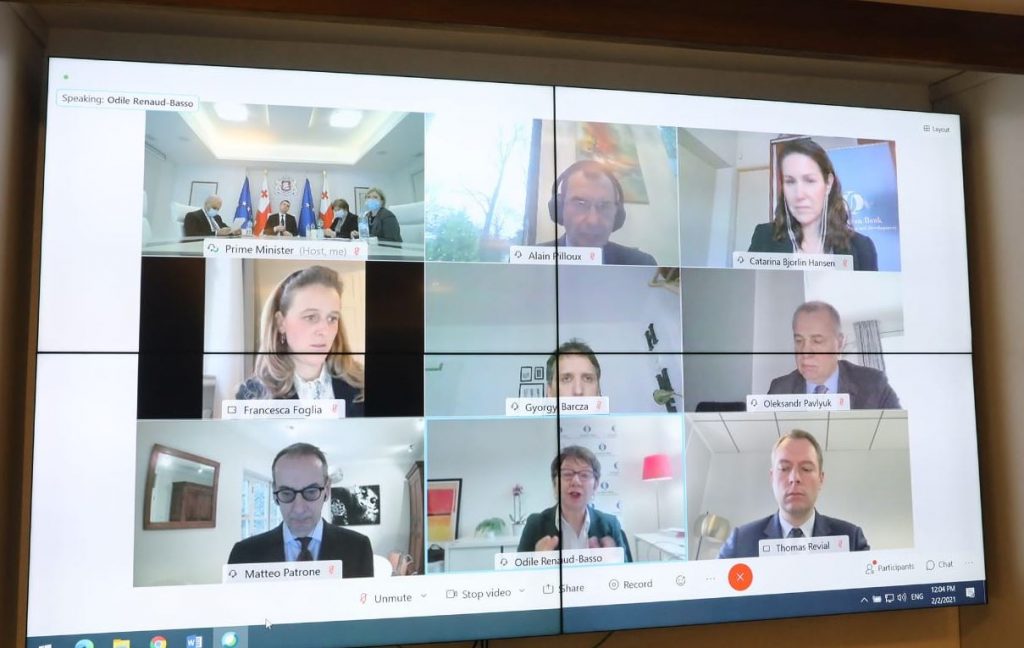 EBRD prepares five-year strategy to address Georgia's needs
Georgian top officials welcomed Odile Renaud-Basso, newly appointed President of the European Bank for Reconstruction and Development (EBRD), during her first virtual visit to Georgia.
"EBRD is one of the most important partners of Georgia. Strengthening of the successful, exemplary cooperation acquires greater importance during the post-pandemic economic recovery. As a result, Georgia has turned into one of the largest per-capita EBRD beneficiaries in recent years," PM Giorgi Gakharia said during an online meeting with Odile Renaud-Basso today.
"EBRD is one of the most significant partners of Georgia in its development. We talked about projects for the physical infrastructure, energy sector, structural reforms, and many other areas. We spoke about the importance of cooperation between EBRD and the Government of Georgia for a loud statement we would make towards a fully-fledged EU membership at the end of 2024. EBRD is an organization that supports the country in developing its economy for making us reach this goal," Gakharia declared.
EBRD President confirmed the commitment of the Bank towards supporting Georgia in overcoming the difficulties caused by the coronavirus.
"We discussed the impact of the coronavirus pandemic on Georgia and how the country is dealing with this unprecedented challenge. We spoke about EBRD's contribution first to overcome the crisis and second to build a better one and to lay a foundation for sustainable and inclusive growth. And I must say that I have been truly impressed by the determination of Georgian authorities in overcoming the crisis and want to publicly reiterate the EBRD's commitment to supporting the country in its way forward," Odile Renaud-Basso said.
EBRD Director said the Bank is preparing a five-year strategy, which will focus on addressing Georgia's needs and priorities. Addressing urgent needs of the economy and laying the foundations for building back better, the EBRD invested a total of €630 million through 16 projects in Georgia in 2020, double the volume seen in the previous year.
An entirely virtual format over a two-day program includes meetings with Georgian President, Prime Minister, Minister of Finance, Minister of Regional Development and Infrastructure, Minister of Economy and Sustainable Development, Mayor of Tbilisi, Kakha Kaladze, Governor of the National Bank of Georgia, as well as representatives of the business community. Meetings with donors and civil society organizations will round off the program.