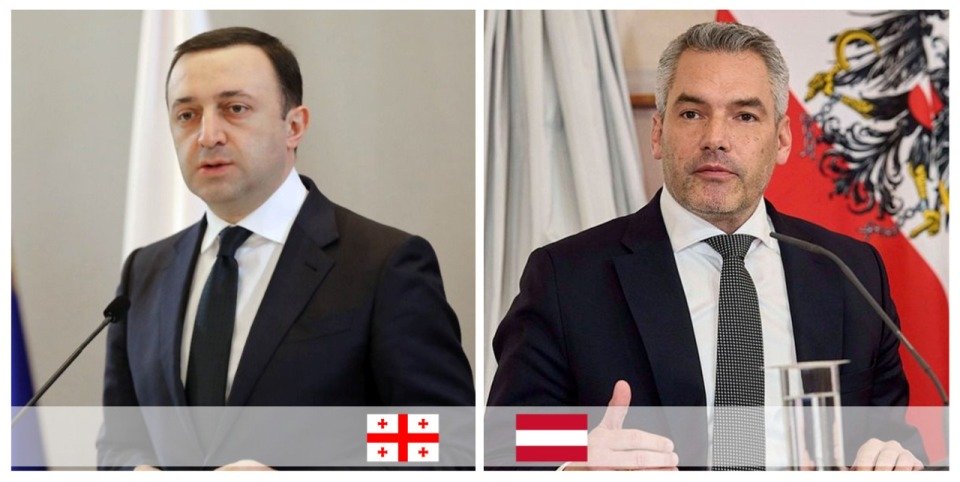 Austrian Chancellor invites Georgian Prime Minister to pay an official visit
Austria's support for Georgia on the European and Euro-Atlantic path and the further deepening of the partnership between Georgia and Austria were the main topics of conversation between Georgian Prime Minister Irakli Gharibashvili and the Chancellor of the Federal Republic of Austria Carl Nehamer.
Irakli Gharibashvili and Karl Nehammer exchanged views and information on the security environment in the Eastern European region and the ongoing hostilities in Ukraine. The Prime Minister noted that Georgia continues to provide both humanitarian and political support to its Ukrainian friends on both bilateral and multilateral levels.
The Prime Minister spoke with the Federal Chancellor of the Republic of Austria about the progress made by Georgia in the process of European and Euro-Atlantic integration and the application for membership in the European Union.
PM noted that Georgia had received a self-assessment questionnaire from the European Commission on the status of an EU candidate country, and that the questionnaire filled out by Georgia would be handed over to the EU in May.
Irakli Gharibashvili stressed the importance of supporting the partnership on the path to European integration and expressed hope that the Republic of Austria will stand by Georgia on the path to membership.
The Prime Minister thanked the Federal Chancellor of the Republic of Austria for his unwavering support for Georgia's European integration, sovereignty and territorial integrity.
The Chancellor of Austria has invited the Prime Minister of Georgia to pay an official visit to Austria.