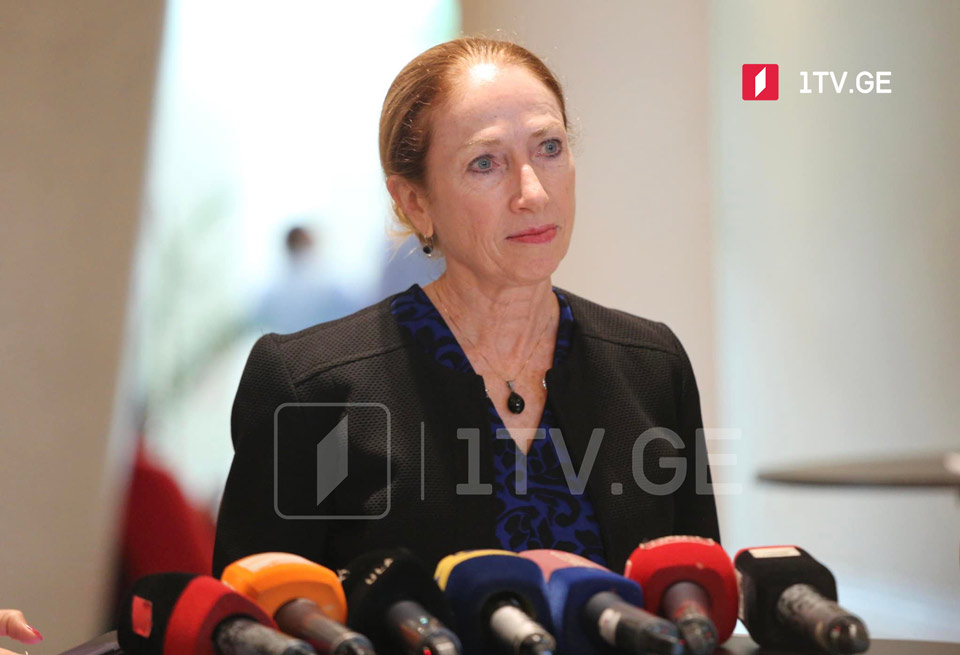 Ambassador Degnan: For 30 years, U.S. has been trying to help Georgia build its democratic institutions
Asked about a new members of People's Party, US Ambassador to Georgia Kelly Degnan on Wednesday said, "I'm not going to comment on the political developments in Georgia. I think the Georgian public can see very well what's going on here."
"There is a confusing message coming from the government between aligning with those who seem to be moving to undermine the partnership between Georgia and the United States, and the statements from the Prime Minister and others about the importance of the partnership between the United States and Georgia and other strategic partners," Degnan continued.
In her remark, US Ambassador said she would prefer to "deal with facts", adding that "there's plenty of disinformation and conspiracy theories out there."
Kelly Degnan stressed that for 30 years, the United States has been trying to help Georgia build its democratic institutions "so that the people of Georgia can have greater confidence that this country is moving toward a stronger, healthier democracy. That is what the people of Georgia have said they wanted for decades."
"The facts are that for 30 years the United States has been committed to helping Georgia strengthen its security and supporting Georgia's sovereignty. For 30 years, the United States has been supporting Georgia in developing its economy, in creating better jobs. I would say some of the good economic figures that we're seeing in Georgia right now in part relate to the support that the United States, the EU, and other friends of Georgia provided to help cushion the outcome of the Covid pandemic and to help Georgia be in a good economic position coming out of this unprecedented situation, on top of the impact of the war or Russia's war against Ukraine.

The United States has been very proud and pleased to be able to help Georgia with all of those goals: stronger security, a stronger economy, and stronger democratic institutions. We look forward to continuing that partnership. Our meeting today with this speaker and his cabinet was a good chance to renew that partnership and to talk about the ways going forward that USAID and the US Embassy can continue to support Georgia on its path toward a Euro-Atlantic future. That's what we all want to see: Georgia more fully integrated into the Euro-Atlantic family," she stated.
Five more MPs from the ruling Georgian Dream – Viktor Japaridze, David Kacharava, Eka Sepashvili, Irakli (Dachi) Beraia, and Zaal Mikeladze – joined People's Party on Tuesday.
Ambassador Degnan's Remarks to media at Parliament https://t.co/51nEit4hiO

— U.S. Embassy Tbilisi (@usingeo) October 5, 2022