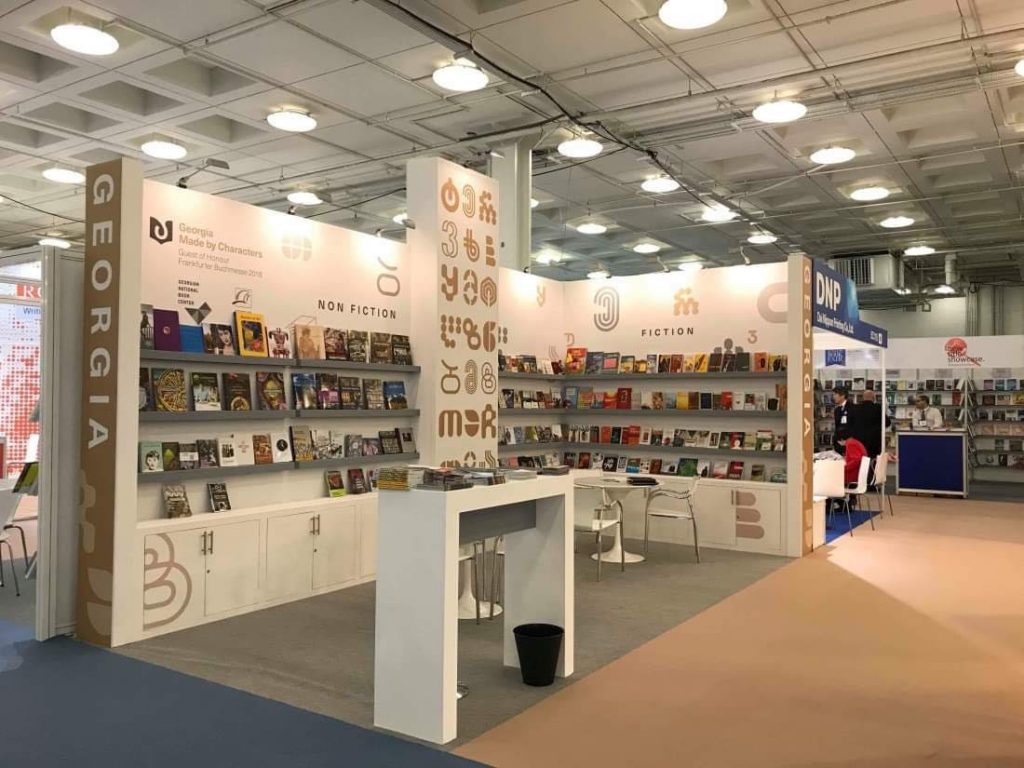 16-20 октябры Гуырдзыстон, Франкфурты чиныджы æрмукъæйыл националон стендæй бавдыст уыдзæн
Гуырдзыстоны чиныджы рауагъдадты æмæ  парахатгæнджыты  ассоциацийы  организацигондæй,  16-20 октябры Гуырдзыстон,  Франкфурты  чиныджы  æрмукъæйыл  националон стендæй  бавдыст уыдзæн.
Фырон  2018 азы   Гуырдызстон, Франкфурты  чиныджы  æрмукъæйыл уыд  цытджын   уазæджы  статусæй.  Æнтыстджын  проекты  фæстæ,  ацы  аз   æхсæнадæмон   æрмукъæйыл  Гуырдзыстон  ранæуæггонд  слоганæй  абалц кæндзæн – Follow the Journey of Georgian Characters .
Æрмукъæмæ бацæуæг фæсарæйнаг  уазджытæн  уыдзæн фадат   Гуырдзыстоны ссарын   æртæ  æндæр æмæ æндæр тыгъдадты: Гуырдзыстоны нациаоналон стэнд (Hall 5.0, B100); уагъд æмæ  нырма  мыхуыры  цы   гуырдзаиг  сабион чингуытæ  ис  уыдоны стэнд (Frankfurt Kids Foyer 5.1/6.1); æмæ стэнд Spend 4 Seasons in Georgia (Hall 3.1 K126).
Проекты фæлгæтты гуырдзиаг æм фæсарæйнаг  фыссджыты  æмæ  раагъдадты  хайадæй,  Гуырдзыстоны  националон  стэнды   сценæйыл  GEORGIAN CHARACTERS æмæ  æрмукъæйы æндæр тыгъдадты  плангонд у  дыууыны онг   литературон æмæ бизнес   мадзал.  Дæсы онг   гуырдзиаг рауагъдад фондз  боны   дæргъы  фæсарæйнаг  рауагхъдадтæн  æндæр æмæ æндæр  форматы  гуырдзиаг литературæ  зонгæ  кæндзæн. Æрмукъæйы  дыккаг бон та   Гуырдзыстоны нациаоналон стэнд,  традиционæй  сфысым кæндзæн  бæрæгбонон  амалæн,  кæцымæ бацæудзысты  Франкфурты  чиныджы  æрмукъæйы  организатортæ æмæ   дунейы   рауагъдадты сферæйы   профессионалтæ.
Фрнакфурты чиныджы  æрмукъæйыл Гуырдзыстон  фыссджыты  хæдзары æмæс  Гуырдызстоны  ахуырады, зондæты,  культурæ æмæ спорты  министрады  æххусæй бавдыст уыдзæн.