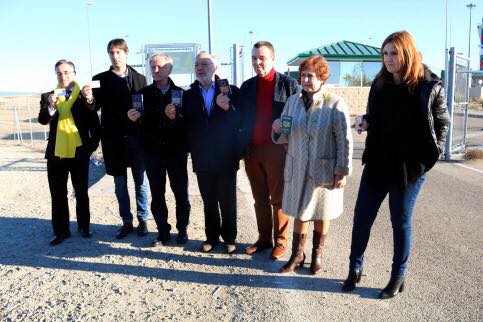 MEPs denied from visiting Catalan leaders in jail
Seven members of four different European Parliament (EP) parties, including Catalan MEPs, gathered on Tuesday at the entrance of Estremera prison, in the Madrid region, to denounce that they were not able to visit Catalan leaders in jail. According to them, they requested to visit pro-independence leaders almost a month ago, but a still have not been granted access to the prison.
"We are from different political groups, from the left, from the right, from the center— it does not matter as we are united in our defense for basic democratic rights and values, the founding principles of the EU," said Mark Demesmeaker, MEP for the European Conservatives and Reformists (ECR).
According to José Bové, an MP for the Greens-EFA, one condition of being an EP member is the right to visit any prisoner all across the EU to discuss "the conditions of their imprisonment". The MEPs said that the prison director refused to meet with them.
The MEPs belong to a group of seventeen members of the EP who announced in Novembertheir intention to visit imprisoned pro-independence leaders. The group included members of the Progressive Alliance of Socialists and Democrats (S&D), the Alliance of Liberals and Democrats for Europe (ALDE), the European United Left-Nordic Green Left (GUE-NGL), as well as the ECR and the Greens.
There are four Catalan leaders imprisoned in Madrid: vice president Oriol Junqueras, who is also the leader of left-wing ERC party; minister Joaquim Forn; and civil society leaders Jordi Cuixart and Jordi Sánchez, the latter being the number 2 of president Carles Puigdemont's pro-independence ticket Together for Catalonia.