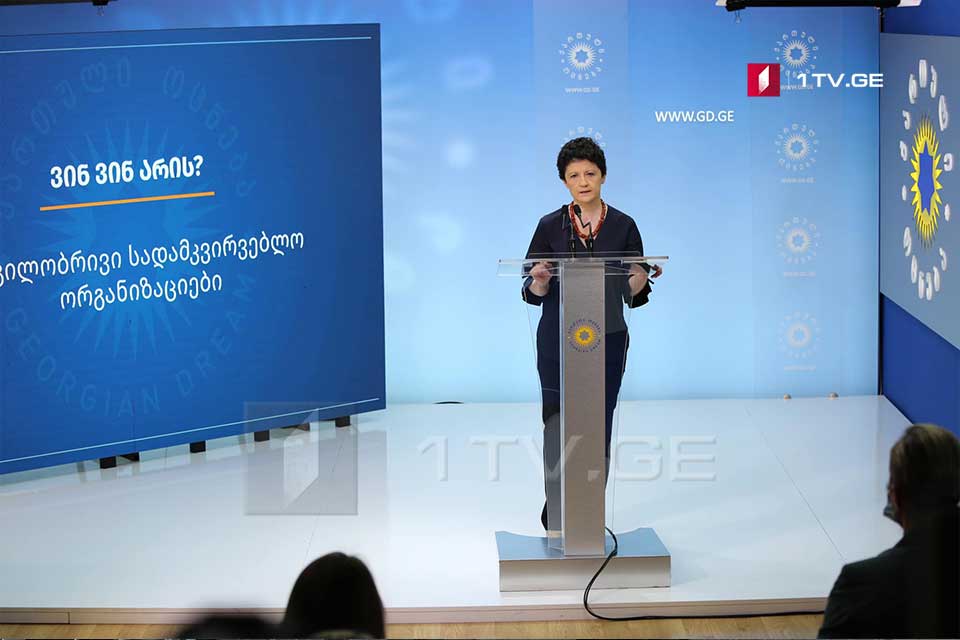 Tea Tsulukiani says that out of 129 election observer organizations, 32 are directrly or indirectly linked to oppositional parties
Tea Tsulukiani, a member of the ruling Georgian Dream Party says that out of 129 election observer organizations, 32 are directly or indirectly linked to oppositional parties.
According to Tsulukiani, the opposition knows that it is losing the elections and seeks to apply to a certain scheme one of the components of which is the observer organizations.
"Based on the scheme, the oppositional specter and their radical representatives will try to create fake news on Election Days and next days about various violations and as if different institutions failed to hold the elections transparently," Tsulukiani claimed.
Tsulukiani said that OSCE/ODIHR published an interim report several days ago which says that the major part of election observer organizations in Georgia is affiliated with political organizations and that out of 129 election observer organizations, 32 are directly or indirectly linked to oppositional parties.
Tsulukiani underlined that National Movement had 20 such so-called election observer organizations.
"One of the units of National Movement, European Georgia has 8 so-called election observer organizations, another unit of National Movement "Aghmashenebeli Strategy" has 2 organizations, there are observer organizations linked to Patriots' Alliance. The 2020 parliamentary elections, ridiculously, will be observed by Reformers Club founded by Dimitri Shashkin, Penitentiary Minister of National Movement. The Gamgeoba Chairman of this observer organization is former chief prosecutor Murtaz Zodelava. These two persons will present their neutral evaluations about the elections," Tsulukiani said.
Also, as Tsulukiani said, Monitoring Center Mediator is also registered as election observer organization the founder of which is Levan Khabeishvili, Majoritarian (single mandate) MP candidate of National Movement in Samgori district of Tbilisi.
Chairman of so-called such observer organization New Vision Georgia is Giga Inasaridze, support of Bacho Akhalaia, National Movement's Minister of Internal Affairs. So-called neutral observers will also be Free Zone and Young Generation. There is an organization with absurd name Peace Legion Phoenix the chairman of which is Besik Tserediani, a member of Political Council of National Movement.
Furthermore, Civil Platform 2020 is worth mentioning that was established in 2009 under the name of Young Initiators Club and has been recently renamed based on the statement of Lasha Parulava (former employee of the Khobi Municipality Military Conscription Service).
"This organization was involved in election observation activities in 2014-2016 and their representatives were noticed in organizing artificial disorders. The organization members are close friends of Nika Melia and Davit Sakvarelidze. Lasha Parulava was Chairman of Mtskheta Organization of National Movement in 2016.
The daughter organization of this organization is Hub Georgia the Gamgeoba Chairman of which is Giorgi Kodua, brother of high-official of the Special Operative Department Erekle Kodua.
There is movement Georgia's Unity and Unification the member of which is Elene Ozashvili, Majoritarian candidate of Tbilisi Sakrebulo (City Assembly) in 2017 who is currently on the party list of European Georgia Party.
As for "Aghmashenebeli Strategy," here we have election observer organization Observatory of Politics and Justice the Gamgeoba members of which are Paata Manjgaladze and Lasha Diarov being on the party list of "Aghmashenebeli Strategy." They will observe their election during the elections.
I would like to attract your attention to observer organization Georgian Word which will observe the elections in favor of Patriots' Alliance. Fridon Injia is its Gamgeoba member. He is the 7th member of the party list and one of the large donator of Patriots' Alliance.
This is a clear example how different parties take use of the liberal and transparent model introduced by Georgian Dream to create fake news, criticize Central Election Commission and cause the flow of provocations. These analytics will be provided to OSCE/ODIHR and actual election observers," Tsulukiani claimed.