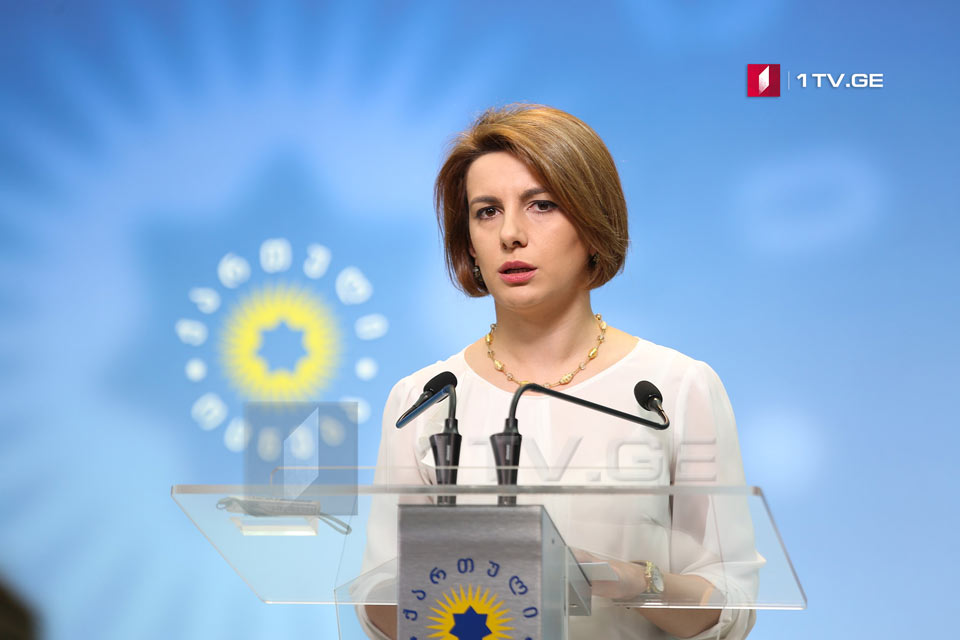 Tamar Chugoshvili: National Movement is well aware that they will lose the elections in Zugdidi, correspondingly, they are trying to introduce tension and disorder
With the election day coming closer, the National Movement has stepped up its attempts to hinder and discredit the electoral process with its destructive actions, – Tamar Chugoshvili, Vice-Speaker of the Parliament made this statement at the briefing today.
As Tamar Chugoshvili noted, during the last several days, the public witnessed attempts by opponents to cause a commotion at the electoral commission and a disturbance at the Zugdidi Sakrebulo building and Today, United National Movement members entered the Zugdidi electoral commission building by force and attempted to impede the work of the commission.
"An attack on the electoral commission, which, according to all kinds of international assessments, has organized the electoral process in an orderly manner and in strict adherence to the law for many years, is completely unacceptable. The aim of our opponents is to discredit the operation of governmental institutions, in this case – the Central Electoral Commission, and to derail the electoral process precisely in Zugdidi, where, given the candidate, taking up positions is of symbolic importance to them. Evidently, the National Movement is well aware that they will lose the elections in Zugdidi in the first round. Correspondingly, they are trying to introduce tension and disorder into a stable electoral process. Our goal is to hold the elections in a peaceful and democratic environment. No provocation, no incident that casts doubt on the electoral process must remain unanswered. Corresponding bodies will have the strictest possible reaction to any instances of violation of law", – Vice-Speaker stated.
According to Tamar Chugoshvili, every offender, every person who attempts to perpetrate violence or disrupt the electoral process will be held legally responsible.
"At the same time, we once again call on the observer organizations and embassies to pay special attention precisely to the Zugdidi electoral district, since it is already clear and evident that the center of tension will move to that location. Later today we will meet with international organizations and the embassies that are observing the situation in Zugdidi, as well as the expectations that we have in connection with the elections and the development of the processes. Their participation in these processes is of great importance. They can help us avoid escalation in this process and I think our meeting today will be important in this regard", – Tamar Chugoshvili added.