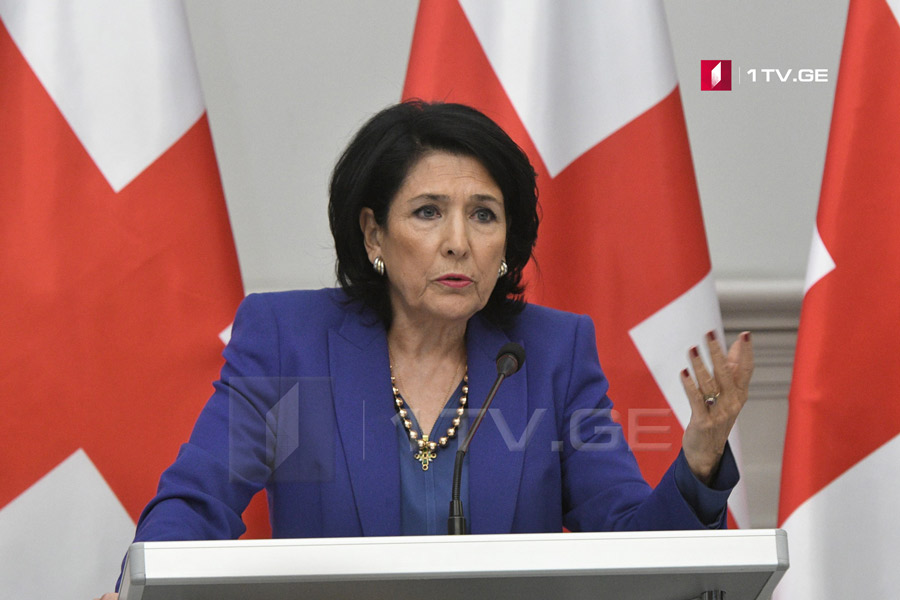 Salome Zurabishvili: President cannot express her position on any judge
President of Georgia Salome Zurabishvili commented on the recent situation around the court system and noted that she would follow the whole process carefully.
As Zurabishvili stated at a news conference, it's of utmost interest the court to enjoy the trust not only from the Georgian society but also from the European and American allies.
"The Court's reform and trust towards it is a cornerstone of our democracy. The face of our court system is the precondition of our future in the EU. There must the trust not only from our community [towards the court] but also from our European and American allies. We know that we should move to the fourth stage of the current reform, and it will determine the future of our society and the future generations. I think that the entire society, as well as the President, should carefully follow the whole process, should observe the rate of the fourth phase of the reform. I am neither indifferent nor neutral, I am very supportive of this reform and so will be the end," Zurabishvili said.
As for the judicial candidates for the Supreme Court, Zurabishvili says that the president cannot express her position on any judge.
"As for my position towards any judge, I am not a politician either in the opposition or position, so it will be totally unacceptable for me to express my personal position on any judge…I, as the President, do not have any position on any judge or on the creation of a list of the Supreme Court judges. The only thing I can say is that all processes related to the Supreme Court are connected to the trust towards the court and to the highest risk of trust. Thus, all these [processes] require the most cautious procedures," President said.
The President welcomes the fact that the process of choosing the judicial candidates has been transferred to other format and hopes that it will give everyone time to understand criteria and everything will be done so that these procedures will result in greater confidence in society," President said.
Leave comment