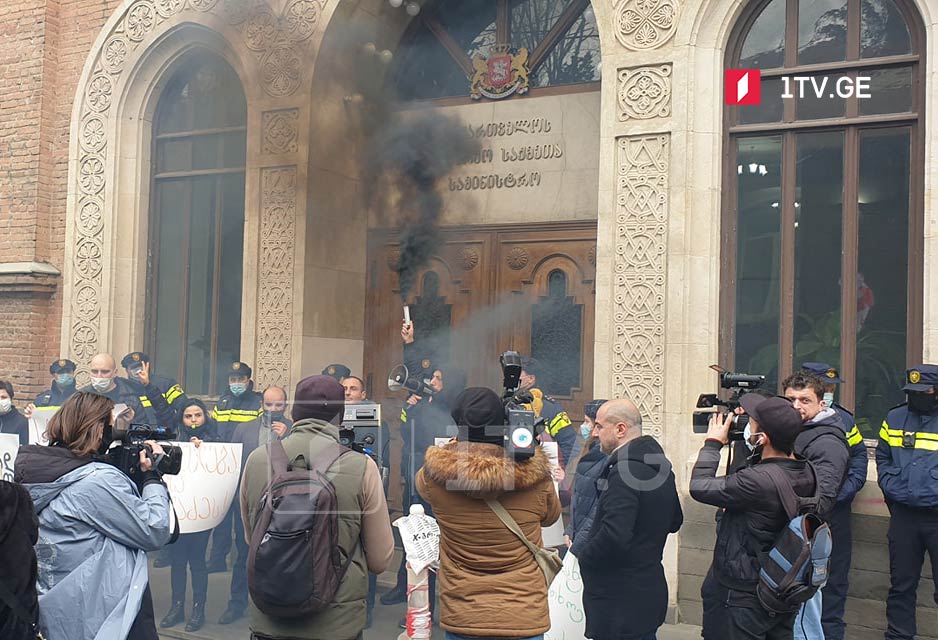 Protesters rally in front of Georgian Foreign Ministry
Representatives of the Sirtskhvilia [Shame] movement are holding a rally in front of the Georgian Foreign Ministry in protest against the 12-year imprisonment of Georgian national Zaza Gakheladze by the de facto Tskhinvali regime.
GPB journalist reports that protesters clashed with police when law-enforcers tried to move one of the protesters away.
The rally participants, joined by UNM and Labor opposition parties' members, claim the government is silent on Gakheladze's imprisonment and take no steps to solve the problem.
"We join the rally and support the demand that the Georgian government serve the protection of Georgian citizens and not be silent when Russian occupiers or separatists kill our fellow citizens," said Lasha Chkhartishvili from the Labor Party.
David Zalkaliani, Minister of Foreign Affairs of Georgia, echoed the judgment in Zaza Gakheladze's illegal detention in occupied Tskhinvali on Twitter.
"Extremely concerned with the decision on prolonging illegal detention of Georgian citizen Zaza Gakheladze for 12+years. This provocation truly reflects Russia's destructive plans for destabilization in Georgia. We appeal to int'l community to take a strong stance for his immediate release," David Zalkaliani tweeted.
The occupied Tskhinvali Court sentenced the unlawfully detained Georgian citizen Zaza Gakheladze to 12 years and six months in prison on February 5.