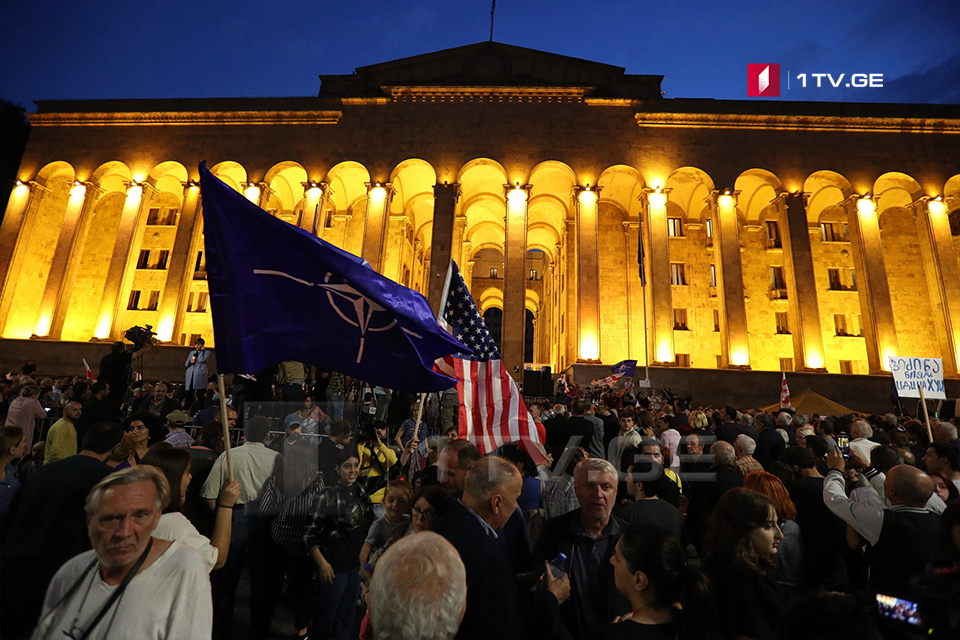 Protest at Parliament and Presidential Residence
A protest is being held outside the parliament building with participation of civil activists and representatives of oppositional parties. The activity is organized by "It's a Shame" Movement to express protest against the so-called "Gavrilov Night" and appointment of Giorgi Gakharia, former Minister of Internal Affairs as Prime Minister of Georgia.
Organizers of the protest decided to end their rallies today three months after the so-called "Gavrilov Night" with a large-scale activity. According to Elene Khoshtaria, a member of European Georgia Party, all forces should consolidate against one informal and unfair ruler, who usurped all institutions and is destroying democracy of Georgia (meaning Bidzina Ivanishvili, Chairman of the ruling Georgian Dream-Democratic Georgia Party).
Earlier today, one of the leaders of "It's a Shame" Movement Giga Makarashvili said that the main goal from now on was to weaken the ruling Georgian Dream Party before the 2020 parliamentary elections. "We should continue struggle so that 2020 elections are held in a free and transparent environment without any pressure and fear," Makarashvili said.
The National Movement Party is holding a parallel protest at the Presidential Residence. Zurab Melikishvili, Giorgi Baramidze and Zaal Udumashvili addressed participants of the protest.
Protests in front of the parliament building at Rustaveli Avenue in Tbilisi have been held since June 20 in reaction to the visit of Sergey Gavrilov, a Russian lawmaker and his sitting in the parliamentary speaker's chair during a religious assembly, which many Georgians saw as an unwelcome reminder of Russian military occupation of its breakaway regions of Abkhazia and South Ossetia.
The demand of resignation of then Minister of Internal Affairs and current Prime Minister Giorgi Gakharia has remained unchanged of the protest in front of the parliament building since June 21 after the so-called Gavrilov Night when the protest was dispersed by the riot police with the use of tear gas, rubber bullets and water cannon. About 240 people both civilians and law-enforcers were injured during the night of June 20-21.