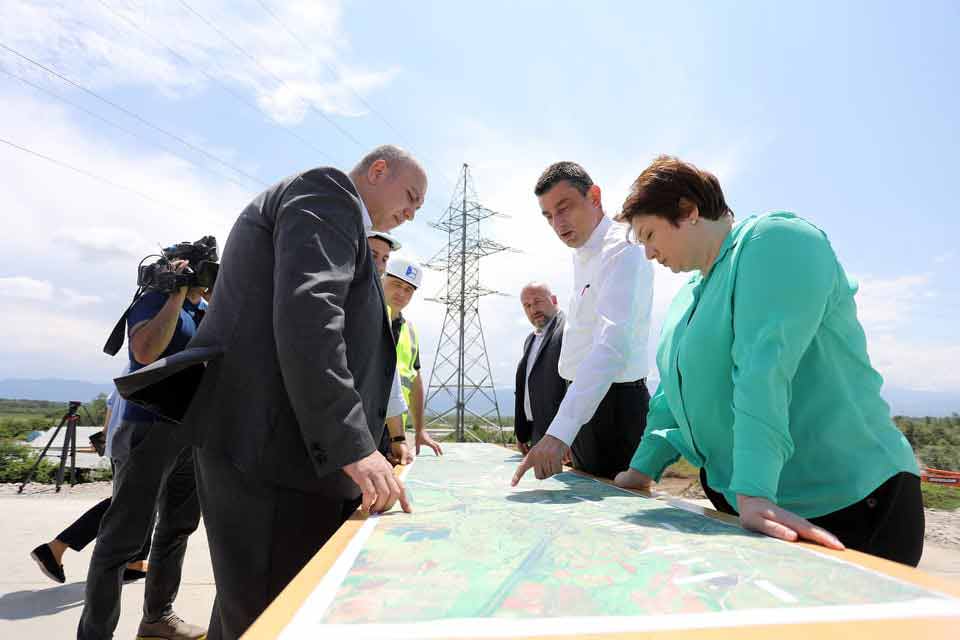 Prime Minister visits construction site of Kutaisi Bypass Road – Traffic will resume at 19-kilometre-long highway from July
Construction of a 4-lane highway within Kutaisi Bypass Road is progressing as scheduled. The large infrastructure project is being constructed amidst the novel Coronavirus pandemic.
Giorgi Gakharia, Prime Minister of Georgia visited the construction site together with Maia Tskitishvili, Vice Prime Minister and Minister of Regional Development and Infrastructure of Georgia, Irakli Karseladze, First Deputy Minister of Infrastructure and Zviad Shalamberidze, Governor of Imereti region.
The construction is almost finished at the 19 kilometre-long road segment and traffic will be resumed from July, while at another location with a length of 56 kilometres, traffic will be restore by the end of 2020.
As noted by the Prime Minister of Georgia, Kutaisi Bypass Road is a two-way road with 4 lanes each way and it is expected to boost the safety of transportation. In the opinion of the Head of Government of Georgia, it is particularly important that bulk of work is conducted by the Black Sea Group, being the first Georgian company ever to construct a highway on its own, rather than serving as a sub-contractor.
Within the scope of the project, Kutaisi Bypass Road will have a new 41.3 kilometre-long 2 lane segment and 12 bridges. Currently the road layer is being arranged and construction of bridges and passages is in progress. Traffic signs and outdoor lighting are also installed. Almost 63% of the workload has been completed by now, which is in the value of 116.5 million GEL. Savings made during the construction have amounted 14 million GEL. Total cost of the project exceeds 200 million GEL and is fully funded from the State Budget of Georgia.