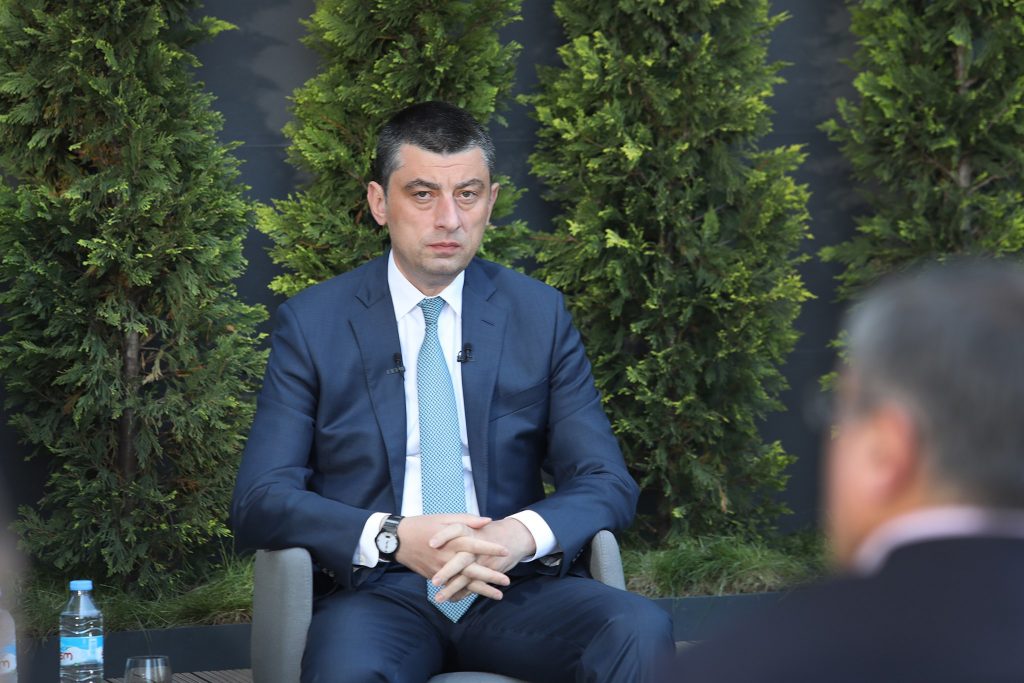 Prime Minister Presents Anti-Crisis Plan Supporting Property Development Industry
"Our epidemiological success in terms of flattening the curve will lose meaning and value unless we reopen our economy gradually, step by step," Georgian Prime Minister Giorgi Gakharia stated in his presentation of the anti-crisis plan for supporting the property development industry.
According to Giorgi Gakharia, these issues are so interwoven that any global victory over the virus becomes senseless and fruitless if the Government, building on success in the field of healthcare, fails to restore Georgia's economy as rapidly and effectively as possible.
"Today, we have three new confirmed coronavirus cases, of which two are medics—which is unfortunate—and one is a truck driver who came to Georgia from one of our neighbouring countries. We all must understand that the fact that we have the spread and geography of the virus under control does not mean that we have defeated it. It only means that we have the virus under control, and the quality of control depends directly on our behaviour, how we observe healthcare specialists' recommendations, and how we take care of one another," the Head of Government stated.
Giorgi Gakharia, in explaining why development is the 4th stage under the anti-crisis plan, emphasized that this industry made up 9% of the country's pre-pandemic GDP.
"The 1st anti-crisis plan seeks to support the tourism sector, which makes perfect sense. The 2nd plan targets agriculture, caring for farmers and the village, while the 3rd plan involves education, and now we are discussing the 4th anti-crisis plan, one dedicated to construction and development, the fastest growing areas directly employing 120,000 people and roughly as many indirectly. The spillover effect of construction and development is immense. Building material production, furniture manufacturing, renovation works, and trade in various construction machinery and equipment depend on it. And that does not apply exclusively to assisting construction companies and developers. It means assisting our citizens," the Prime Minister emphasized.
According to the Head of Government, it is symbolic that this program is presented at Axis Tower, the construction of which, launched prior to 2008, would have been impossible without Cartu Foundation's assistance.
"It is symbolic that we are presenting this program here in this building, one launched prior to 2008. After the 2008 crisis, the authorities put this sector on the shelf and totally neglected it, with only a few companies surviving that crisis. Alongside construction companies, our citizens were also neglected, deprived of the hope of ever having new apartments and improving their living environment. For years since 2012, our Government has been trying to solve this problem. You all remember well the initial program establishing VAT cuts on construction licenses issued prior to 2008, resulting in several far-reaching projects taking on a new life.

Next, the city hall launched its programs related to construction permits issued in 2013, and thousands of people eventually improving their living conditions. Most importantly, construction companies with good records were able to bounce back and continue operating. Suffice to say, this particular project, launched prior to 2008, would have been impossible without Cartu Foundation's assistance. And that goes to prove that building must continue, and we must do everything to keep construction and the country's building going. Ultimately, a building should not stop even for a second, something we are trying hard to do. At the same time, we can say that, despite the pandemic, not a single systemic project has failed.

We bear a special responsibility to companies who have been through the heavy crisis in 2008, to our citizens who have been through the 2008 crisis and continue to struggle against reality, to receive what is theirs by right. We hope that we, in the nearest future, will achieve that together," Giorgi Gakharia said
The Prime Minister pointed out that, in the course of the past 2 years, 2019 and 2020, 25,000 mortgage loans and contracts on sites under construction have been issued and have yet to be finalized.
"Of course, we the Government can in nowise abandon our citizens halfway, and neither can we abandon these construction companies, which is why our 4th anti-crisis plan targets developers and construction companies. And that is why we are taking this step, above all else, to help our citizens who plan or have already entered the process of improving their living environment, or already have contractual obligations, or have savings to be used for improving their living conditions. Of course, we have channeled our efforts toward the construction industry by developing an absolutely realistic and concrete program. I will list just a few points from this program: The Government of Georgia, in the course of 5 years, will subsidize 4% of all mortgage loans executed before the end of this year, which means that it will create an actual demand in the construction market. In the course of 5 years, we will stand by and support all our citizens planning to improve their living conditions," Giorgi Gakharia emphasized.
According to the Head of Government, the Government, throughout the past few months' crises, took concrete steps to help various social groups. Before the end of this year, the Government will channel 150 million GEL to triple the intended scope of construction of residences for 1,800 refugee families, which means that 1,800 refugee families, that is, about 6,000 people, will receive residences 3 years earlier than planned, the Prime Minister added.
"It is an absolutely reasonable, prudent step to dedicate the 4th anti-crisis program to the sector of construction and development, and this assistance does not apply only to construction and development—this assistance applies to all our citizens. Of this, it will be assistance with liquidity meeting direct demand for construction companies. I absolutely must single out the City Hall's program we plan to expand to cover the whole country. This program involves concrete concessions on construction permits issued prior to 2013. Nine projects have already been reviewed and approved to help about 3,500 families, with more than 30 more projects pending. These are citizens who, in the course of the past 10 years, have been paying and waiting for their living conditions to improve, to have places of their own. And that is especially relevant in light of the worsening post-2018 crisis situation and construction companies in crisis. 25,000 Georgian citizens signed 25,000 mortgage contracts in 2019-2020, those related to apartment complexes still under construction. Of course, the Government will see to it that these projects are finalized and these citizens, unlike in the 2018 crisis, do not end up in the streets," Giorgi Gakharia said.
The Head of Government thanked the National Bank, the Tbilisi City Hall, and the property development sector for their active participation in the development of the anti-crisis plan.
"It is an extremely important step. It may not be an ideal program, but it is the most optimal step by the standards of our economy and its development. It maximally covers all social strata, those who already have or will assume mortgage-related contractual obligations, also our refugees, and the program is designed maximally to contribute to keeping jobs, our key goal. Now we are considering our next anti-crisis plan, most likely healthcare. Our healthcare system requires significant support from the state," Prime Minister underlined.
The presentation of the anti-crisis plan in support of the property development sector was attended by the economic team of the Georgian Government, the President of the National Bank, MPs, the Tbilisi Mayor, the Head of the Co-Investment Fund, the Secretary of the Council of Investors, the Business Ombudsman, and representatives of the construction and development industry.