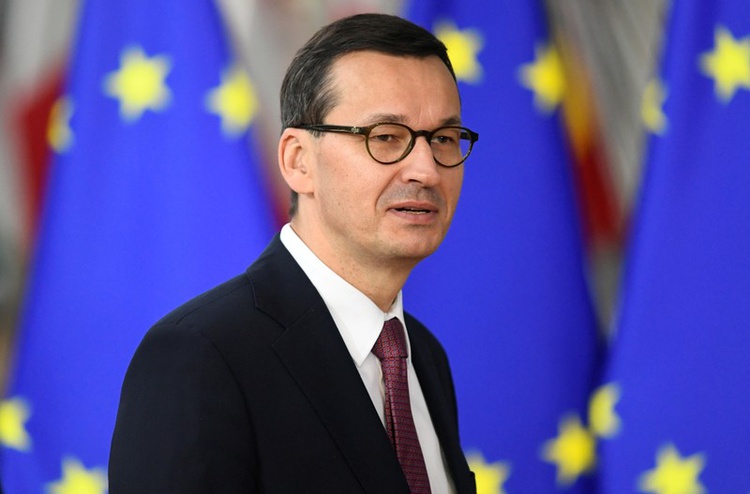 Prime Minister of Poland - Europe cannot pretend that nothing happened in Ukraine, Belarus or Georgia
Poland's Prime Minister Mateusz Morawiecki said that Europe could not "pretend nothing has happened in Ukraine, Belarus or Georgia." According to Polish PM, Poland was in favor to cooperate with peaceful and democratic Russia but Russia was not peaceful and was quite aggressive.
In an interview with Financial Times, Morawiecki said that NATO was "the primary source of security" for Poland. He said that NATO was "the most important alliance in the world when it comes to preserving freedom and peace".
Morawiecki accused Emmanuel Macron of irresponsibility after the French president said NATO was suffering "brain death" and questioned the security alliance's commitment to mutual defence. He said Mr Macron's questioning of whether its members could still be counted on to defend each other — the cornerstone of Europe's security architecture — was "dangerous."
"I think President Macron's doubts about [Nato's mutual defence clause] can make other allies wonder if perhaps it is France that has concerns about sticking to it. I hope that we can still count on France fulfilling its obligations," Morawiecki told the Financial Times.
Mr Macron's comments in an interview with the Economist underlined mounting concerns in western capitals about the future of the transatlantic alliance, which has been shaken by the unilateralism of US President Donald Trump. Mr Trump branded Nato "obsolete" during his election campaign, and last month shocked other members of the alliance by withdrawing US troops from northeastern Syria and in effect allowing Turkey to invade without first consulting with other Nato partners.