Presidents of Georgia and Italy hold face-to-face meeting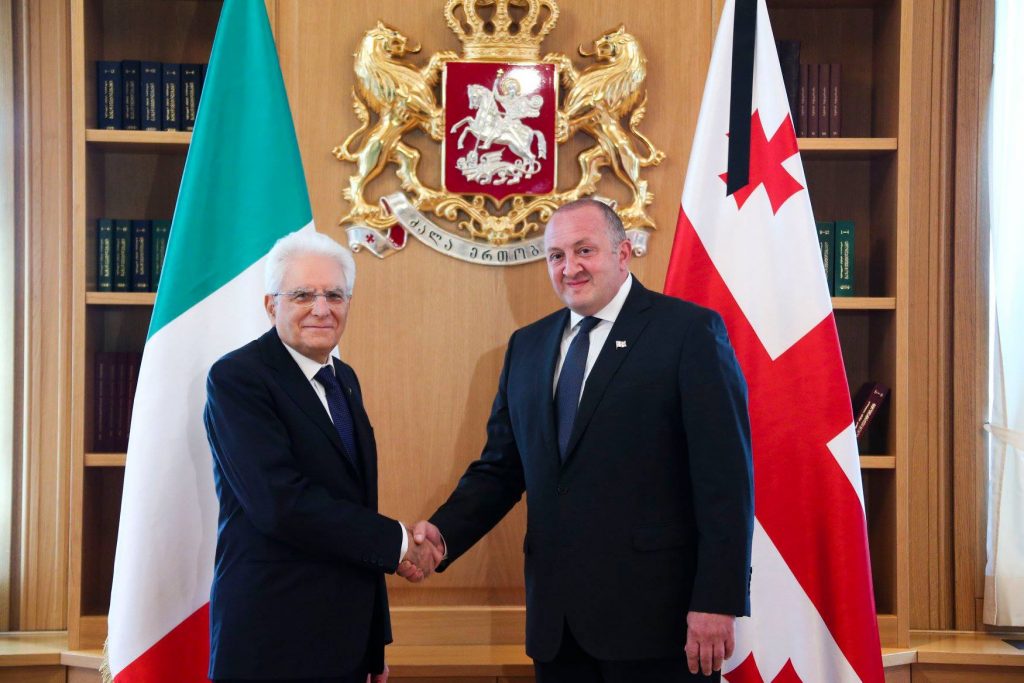 Giorgi Margvelashvili, President of Georgia and Sergio Mattarella, President of Italy held face-to-face meeting at the Presidential Palace today.
"We are very pleased to have you here, in Tbilisi. Though we mourn the victims of the tragic incident of Mindeli Mine, our hearts are filled with love because this is your first-time historic visit to Georgia. You have visited Tbilisi in 2018, the centennial of the First Democratic Republic of Georgia," Giorgi Margvelashvili, addressed Sergio Mattarella.
President Mattarella has thanked his colleague for hospitality. He has expressed sorrow over the victims of Mindeli Mine incident, noting that "occupational fatality is always tragic and Italian people stand by Georgia".
The meeting focused on topical issues in Georgia-Italy bilateral relations, including political, trade-economic, defense, law enforcement, cultural and educational cooperation.
As highlighted, President Mattarella's first-time visit to Tbilisi is of utmost importance, as it promotes further advancement of Georgia-Italy cooperation.
The two presidents have discussed the issues of peace and security, precisely the current alarming situation in the occupied territories of Georgia and installation of barbed wire fences and artificial barriers. President Margvelashvili has briefed his colleague on the systemic violation of human rights of civilians living in the occupied territories and nearby areas and humanitarian problems. As underlined, Georgia attaches great importance to the involvement of Italy, currently holding the OSCE chairmanship, in Russian-Georgian conflict.
President Margvelashvili has once again thanked President Mattarella for supporting Georgia's sovereignty and territorial integrity, adding that Georgian people highly appreciate Italy's unwavering support. He has underscored President Mattarella's personal role in strengthening Georgia-Italy cooperation.
"Our meetings are always distinguished by especially friendly vibes that positively affect our relations. Your visit to Georgia is another confirmation of our fruitful partnership. I am confident that our close ties will become more productive and successful for the benefit of our countries," President Margvelashvili said, expressing delight in having a strong supporter like Italy.
The conversation also touched upon Georgia's integration into European structures. President Margvelashvili believes that Georgia's integration will bring more stability to the European Union and NATO and open up more opportunities for cooperation between the European and Asian markets. As highlighted, ultimate goal of Georgia, a key contributor to the common European security, is to become a full-fledged member of the EU and NATO.