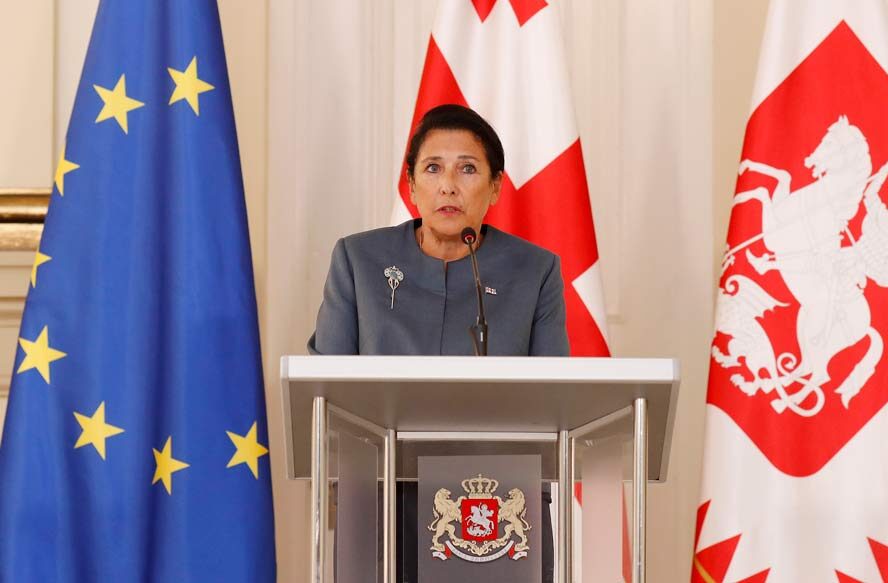 President pledges never pardon Saakashvili, remarks on Covid vaccination, HCoJ appointments
Georgian President  Salome Zourabichvili pledged to never pardon former president Mikheil Saakashvili whose entry into the country was aimed at destabilization.
"Ex-president is neither political prisoner nor a victim. He deliberately entered the country illegally to cause the disorder. I will no and never pardon him!" Zourabichvili stated.
However, due to high public and political interest, he should be treated as a "peculiar inmate" to avoid political speculations over his health state. His medical treatment should be timely and transparent.
In her speech, Zourabichvili also reviewed the election runoffs, saying it has been held in a calm and peaceful environment with no major shortcomings.
"A low margin of votes won by candidates points to democratic elections," the President said.
The President remarked on the appointment of two new members to the High Council of Justice (HCoJ), having dubbed this decision "now and in the present form as an unheard step when the country must advance on the European path as international partners expect".
Amid the alarming epidemiological situation, the President also prompted mandatory vaccination for high-risk groups, Covid certificates in public areas, and chargeable coronavirus treatment for unvaccinated citizens.
Zourabichvili rebuffed the idea of lockdown, leading to economic restrictions. However, she called on the Georgian Orthodox Church to greenlight mass vaccination for parishioners and suppress anti-vaccine campaigning by some priests.
I call on the government to take urgent measures to fight this pandemic catastrophe: mandatory vaccination for risk groups, introduction of #COVIDpassports to enter public places, and even charging for the treatment of unvaccinated people. pic.twitter.com/X0SAcPc1GT

— Salome Zourabichvili (@Zourabichvili_S) November 4, 2021