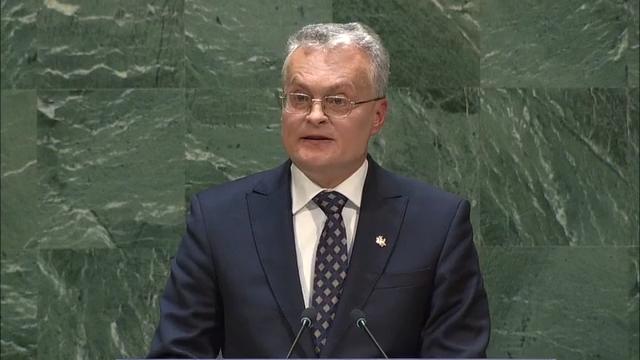 President of Lithuania: Lithuania continues supporting territorial integrity of Georgia
We will continue supporting Georgian independence, sovereignty and territorial integrity, – Gitanas Nauseda, President of the Republic of Lithuania,  said when addressing the general debate of the 74th Session of the General Assembly of the UN in New York.
"Unfortunately, in the world of many crises, Europe is not an exception anymore. The illegitimate use of force and serious violations or sovereignty, independence and territorial integrity have become part of Europe's every-day life. Russia, a permanent member of the UN Security Council, encouraged by the feeble international response to its 2008 aggression against Georgia, attempts to further destabilize countries in its near neighborhood. Russia's appalling military actions against Ukraine have been continuing for five years now.
Lithuania strongly condemns this prolonged violation of international law and urges the aggressor to respect the UN Charter, the Helsinki Final Act and bilateral agreements with Ukraine. We will continue supporting Georgian and Ukrainian independence, sovereignty and territorial integrity; we will never recognize the illegal annexation of Crimea, the occupation of Abkhazia and South Ossetia", – President of Lithuania said