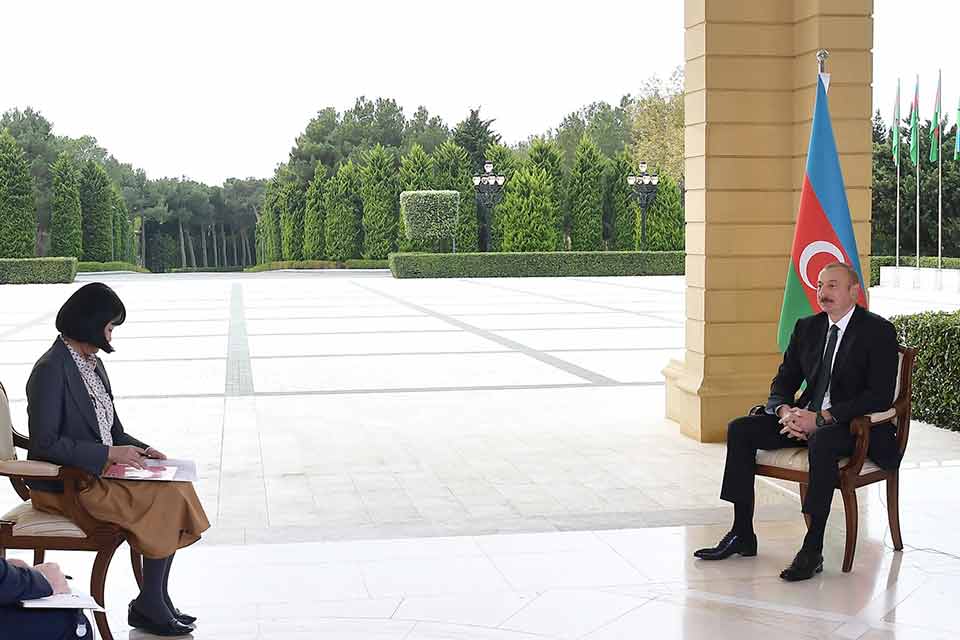 President of Azerbaijan said in an interview with Japan's Nikkei newspaper that Azerbaijan-Georgia cooperation is on high level
President of Azerbaijan Ilham Aliyev described Azerbaijan-Georgia relations as being exemplary in the region in an interview with Japan's Nikkei newspaper.
President Ilham Aliyev was asked questions about prospects on peaceful resolution of the armed conflict over the disputed Nagorno-Karabakh region.
President of Azerbaijan said that peace in the region would change the situation in the region completely. He said he hoped that all the three countries of South Caucasus would cooperate.
"Now the cooperation level between Azerbaijan and Georgia is on the high level. We are strategic partners and we have excellent relations with the current Georgian government. We support each other and are good friends and neighbors," Aliyev claimed.
President Aliyev said he is open to a trilateral meeting with Armenian Prime Minister Nikol Pashinyan in Moscow, but claimed that "counterproductive and provocative statements" by the Armenians render "negotiations senseless."
"The U.S., Russia and France are co-chairs of the Organization for Security and Co-operation in Europe's Minsk group and have a mandate to facilitate and find a solution to the conflict between Armenia and Azerbaijan, therefore it's natural that our ministers meet in these three capitals. These kinds of meetings have happened many times before. The last one was in Moscow. So it's a continuation of discussions on the peaceful settlement of the conflict.
Of course, the situation on the ground has changed. The status quo no longer exists. The line of contact also no longer exists. Therefore now the Armenian leadership must be more reasonable and commit itself to the liberation of occupied territories. So our main objective at these discussions will be to find out whether the Armenian leadership is ready to liberate our territories or not, and if ready, then when?" Aliyev said.