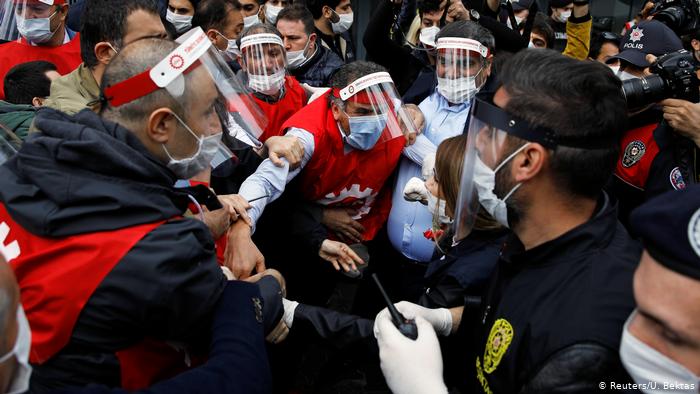 Police arrest 45 over May Day rally in Istanbul, Ankara
At least 45 people were arrested in Istanbul and Ankara for attempting to hold marches to mark May Day amid the coronavirus lockdown on Friday.
Arzu Cerkezoglu, the head of the Confederation of Progressive Trade Unions (DISK), was briefly detained before being released.
As many as 15 people were arrested when a group gathered in front of DISK's central office in Istanbul's Besiktas district and attempted to march to Taksim Square despite police warnings.
Also, 11 people were arrested in Istanbul's Kadikoy district on the Anatolian side for attempting to hold a rally. Another 12 people were arrested at Istanbul's Sisli district, as they wanted to march to Taksim Square. Seven people were arrested in the capital Ankara.
Turkey has imposed a 3-day curfew in 31 provinces including Istanbul and Ankara beginning Thursday midnight to stem the spread of the novel coronavirus, which has claimed 3,174 lives in the country.
The Istanbul Police Department said a total of 44,756 personnel are on duty as part of measures to prevent rallies amid the curfew, as reported by Anadolu Agency.
Turkey's first official May Day celebrations were held in 1923. In 1977, Labor Day demonstrations in Istanbul's Taksim Square left 34 people dead and 136 injured in what became known as Bloody May 1.