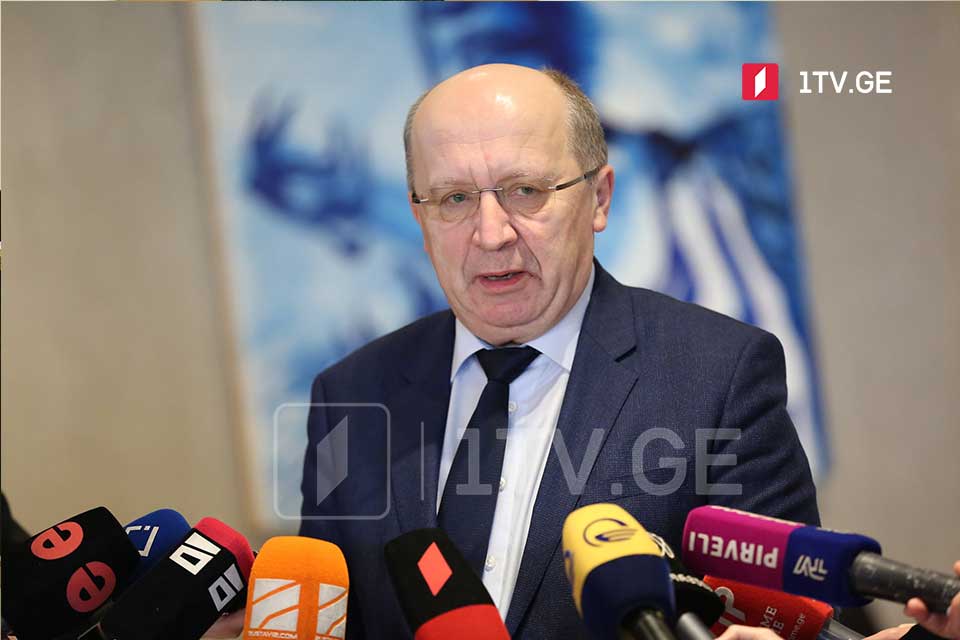 MEP Andrius Kubilius discourses similar to MAP mechanism for EU membership
MEP Andrius Kubilius echoed the European Council President Charles Michel-brokered agreement between the Georgian ruling and opposition parties in an exclusive interview with the Georgian Public Broadcaster.
I would like to ask you about the recent initiative that you have advanced at the Euronest Assembly. That was a kind of MAP for EU membership. Could you elaborate on that?
(as delivered) Euronest is an inter-parliamentary assembly between the European parliament and all Eastern Partnership countries. We voted for the resolution on recommendations to Eastern Partnership Summit. In the draft resolution, we speak about some kind of membership action plan. That is some a vision on how things can move forward, with much more clear benchmarks, some intermediate status before entering the full membership of the EU. More can be achieved, in a more practical way. We talk about what we call intermediate status for the associated countries, which could give all the practical benefits of full membership without providing an immediate possibility to join EU institutions. That is some kind of Norwegian model. We discuss how to call it. It is what Romano Prodi [former European Commission President ] proposed for all the neighbourhood countries back in 2003. So, we are coming back with some kind of those ideas that have been developed a little bit earlier. We think, today, it could be very practical. Georgia can be a very good example, which wishes to put a request for membership in 2024. That really can push the debate inside the EU on the future of the enlargement and different possibilities for integration. That is what we discussed quite intensively with Irakli Kobakhidze exactly today. I hope that this political crisis is coming to an end. If not, then it could be a big obstacle for some kind of development.
Some opposition parties are still refusing to sign the proposal. The largest oppositional party United National Movement is among them. Their main demand is the release of Nika Melia [UNM Chair]. But at the same time, they are ignoring bail payment by the EU and oppose the amnesty proposed by Charles Michel. They say that this amnesty should not apply to law enforcers, who, as they say, used force against the demonstrators. So they are against amnesty. What would be your recommendation or advice?
My advice looks strategically into the future of Georgia, into the effort of Charles Michel, the highest leadership of EU, which took key about how to resolve the crisis. What is written in the agreement on Melia case and what Charles Michel is proposing should be received, should be acknowledged in a very serious way. I can see only one way. It should be done according to all the legal and rule of law precision. If there is a way to go through amnesty law, that can be done. I have many friends in the National Movement, and my wish would be that UNM would reconsider their approach and their position on the agreement. I understand all emotions. I believe that Melia will be released in one or another way, what is agreed. But what is very much important, of course, is not only the release of Melia but also Georgia's future, integration of Georgia with the participation of UNM and other opposition parties. It is crucially important. It is the future of Georgia, what now is at stake. The opportunities we are trying to open for Georgia's integration are very important. It is very important that the political community in Georgia understand it in a proper way.
Salome Samadashvili, from the UNM, has signed the deal individually and later said that she leaves the party. She also noted that the failure of the agreement is in the interests of Russia. Do you agree with this position? Does it mean that those who refused to sign the deal could be playing into Russia's hands?
I would not blame those who are still hesitating and so on. It is politics. It is the domestic issues. But it is clear that the continuation of this crisis does not makes Georgia stronger. We know very well who would be very happy to see Georgia being unrested by this political crisis for a long period. That is the Kremlin's wish. I've just recently listened to Putin's annual speech with the clear language of threats to everybody around. The security of Georgia, the security of all Eastern Partnership countries, is very much a challenge. The Georgian political community should think much more about how to strengthen Georgia, and not how to win any kind of popularity in the continuation of the political crisis.