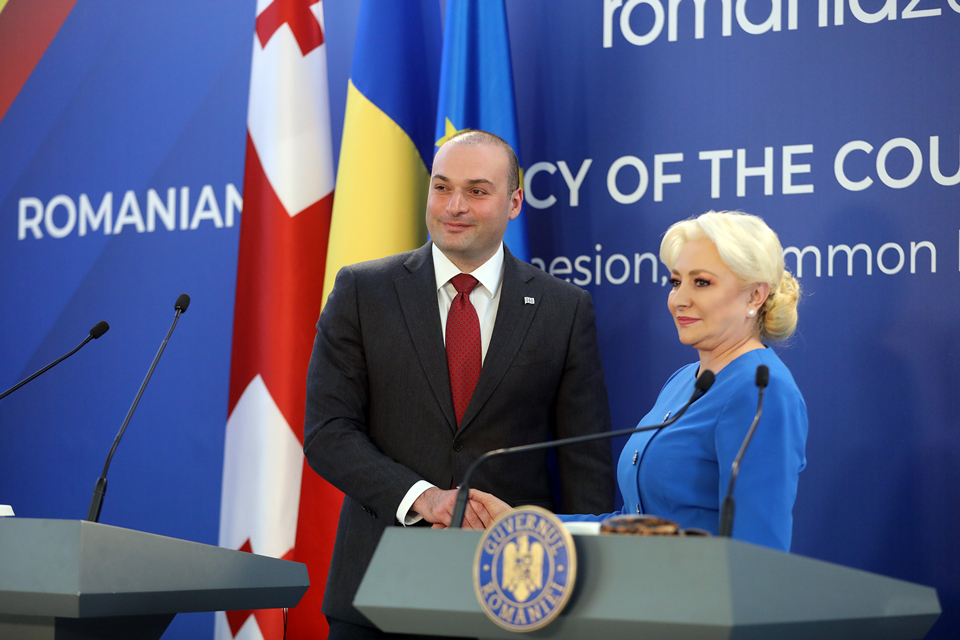 Mamuka Bakhtadze: We value active efforts of Romania for maintaining idea and concept of EP at a high level
We value the active efforts of Romania during its EU Presidency, as the idea and concept of Eastern Partnership (EP) need to be maintained at a high level, – The Prime Minister of Georgia Mamuka Bakhtadze stated in a joint press conference in Rominia, after the meeting with Romanian Prime Minister Vasilica Viorica Dăncilă.
As he noted at the 10th Anniversary of the EP, all agree that truly great progress has been achieved in many directions
"We also noted a new trend in the partnership of joint efforts, need to ignite new spark leading to a greater approximation and integration of Georgia with EU" – Georgian Prime Minister made this statement.
Mamuka Bakhtadze said that Georgia continues to successfully implement the EU-Georgia Association Agreement (AA).
"We wish to transform the degree of sectoral approximation to a substantially different level. This is the idea behind a Road Map presented by us recently in Brussels, which aims to ensure a greater approximation of Georgia with EU and I am sure that Romanian friends will actively support us in this" – Prime Minister added.
As Mamika Bakhtadze said, current and most painful challenges of the country have been discussed at the meeting.
"Russian Federation continues to occupy 20% of our territories. Situation in terms of human rights is disastrous at the occupied territories of Georgia. It may be said that we are facing a humanitarian calamity in both occupied regions. Together with our friends we have designed a peace initiative predominantly aimed at stopping the humanitarian disaster witnessed at these territories. Russia fails to honor its commitments assumed in 2008 and refuses to withdraw its troops from the territory of Georgia", – he said.
According to Prime Minister Georgia consistently pursues the policy of peaceful conflict resolution.
"We consistently pursue the policy of peaceful conflict resolution and remain grateful to the international community for standing by our side towards this end", – he added.