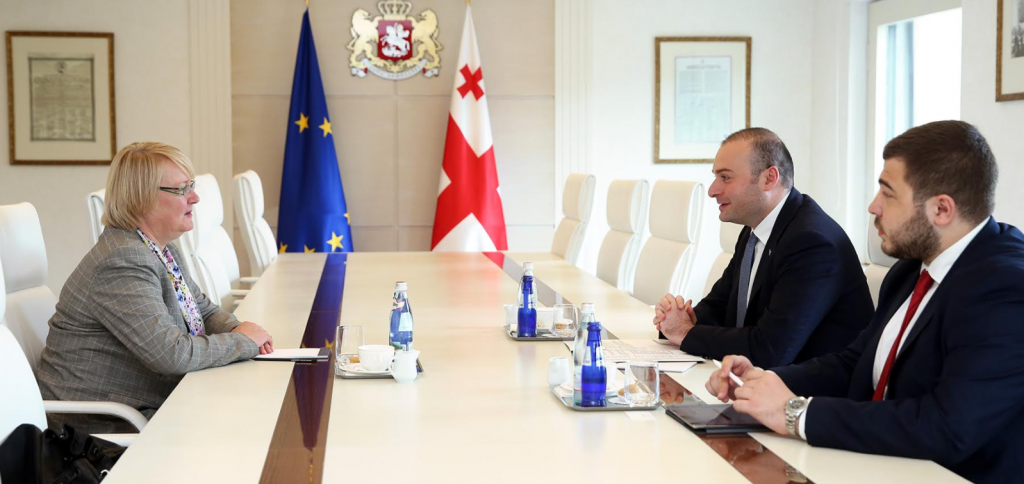 Latvian Foreign Minister's visit discussed during the meeting between Prime Minister and Ambassador of Latvia
Upcoming visit of the Minister of Foreign Affairs of Latvia to Georgia, positive trend of bilateral relations and reforms implemented in the country were discussed during the meeting between Mamuka Bakhtadze, Prime Minister of Georgia and Ingrīda Levrence, Ambassador of Latvia to Georgia today.
Head of the Government noted that upcoming visit of Edgars Rinkevics, Minister of Foreign Affairs of Latvia is deemed as a sign of support and friendship by the Government of Georgia. He is expected together with several other colleagues in Tbilisi on August 6-7  to mark 10 years since the Russian-Georgian war in August 2008.
Meeting was focused on further development prospects of bilateral economic relations. It was noted that direct air flights contribute to the intensified cooperation in this area, as well as in the sector of tourism.
Parties stressed the progress achieved by Georgia towards European integration.
Latvian diplomat praised the Environmental Vision of the Government of Georgia on Green Policy, which indeed covers key aspects. Prime Minister of Georgia expressed interest towards sharing the successful experience of Latvia in the referred area, including the forest management.
Press Service of the Government Administration released the information.