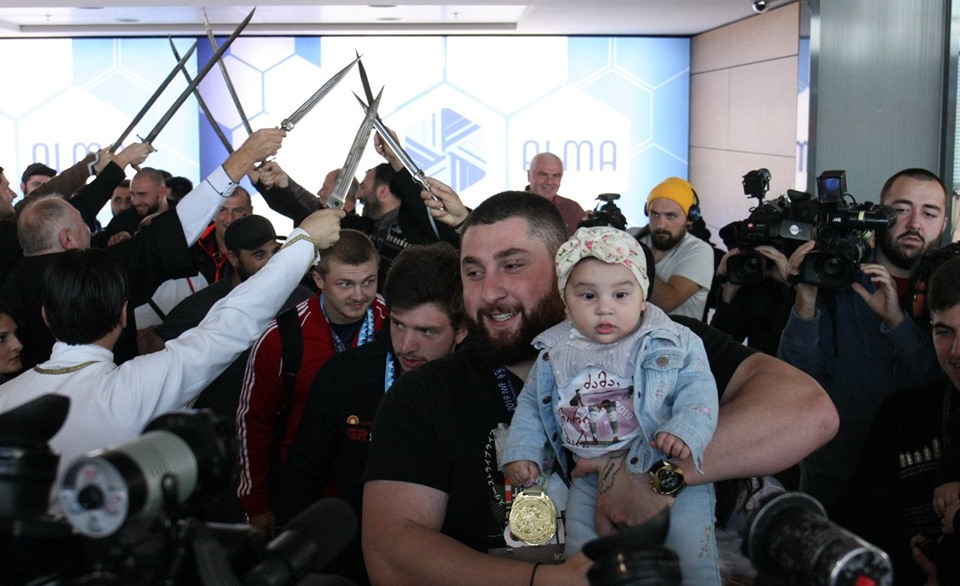 Lasha Talakhadze – I did not plan lifting so much weigh
The team of Georgian weightlifters returned to Georgia from Thailand. Family members, sports fans and representatives of the government welcomed the successful sportsmen at Tbilisi International Airport.
The Georgian team earned five gold and two bronze medals at the tournament with which Georgia went to the second place at 2019 Weightlifting World Championships.
Lasha Talakhadze, Georgian weightlifter set a world record by lifting 220 kilograms. He also successfully raised 264 kg in Clean & Jerk and improved the world record.
"I had to defend my title but at the bottom of my heart, I thought to improve the record. I did not plan to lift so much weight, though," Talakhadze said.
Lasha Talakhadze, Georgian weightlifter and Olympic champion, competing in the +109 kg category, won Gold at 2019 International Weightlifting Federation (IWF) World Championships in Pattaya, Thailand, on September 27.
After 2015, 2017 and 2018, Talakhadze became world champion for the fourth time.