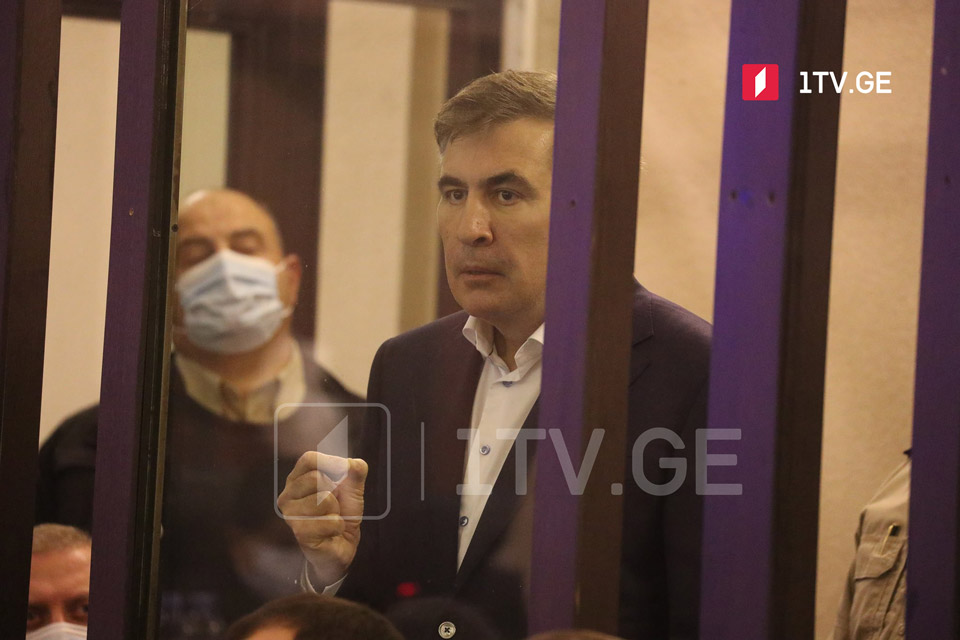 Jailed Mikheil Saakashvili calls prosecutor 'dirty lier' at today's trial
Today, Georgia's jailed ex-president Mikheil Saakashvili is again standing before the judges, facing charges of the embezzlement of GEL 9,024,367 of state funds, also known as the "Case of Suits."
The trial is underway amid altercations as Saakashvili called the prosecutor a "dirty lier."
Ex-president's lawyer Beka Basilaia claims the prosecutors Giorgi Mujiri and Archil Tkeshelashvili "aim to form a political opinion over the case, and in this case, they are not the plaintiffs, but the government's propagandists."
Prosecutor Giorgi Mujiri responded to the statements, saying " the bulk of illegal expenses in the case discomforts them [lawyers] and, of course, to some extent, [it] is related to the developments in the country."
Saakashvili's lawyers also demanded Giorgi Mujiri's recusation due to his "politically motivated" statements in one of his recent interviews, which the judge did not grant.
In his speech, the ex-president said to be "in Putin's captivity, the Russian system's prisoner."
"Those, who judge me on shameful charges like suits thief, some medical procedures I underwent, or for presenting my country at the highest level wherever I went, and whoever came to be well-hosted as this is Georgians' instinct, but incomprehensible for Russians and they are Russians.
I address many people who disagree with me politically, friends, I know that many of you are dissatisfied. I am ready to meet, discuss this and admit where I am not right," Saakashvili asserted.
Prosecutor's Office earlier said Saakashvili and then Head of the Special State Protection Service (SSPS), Temur Janashia, face the charges under Article 182 of the criminal code, envisaging misspending/embezzlement of a substantial amount of funds and carrying imprisonment from 7 to 11 years as punishment.
This Monday, jailed Saakashvili was transferred to the Court for his trial hearing on exceeding official authority in a series of events, including breaking up the 2007 anti-government rallies and a raid on Imedi TV. He is already convicted in absentia by three instances of Georgian courts and is sentenced to six years in jail, including three years over pardoning police officials involved in high-profile Sandro Girgvliani murder case and six years over beating up then opposition MP Valeri Gelashvili.
Mikheil Saakashvili further is charged with the latest illegal border crossing.