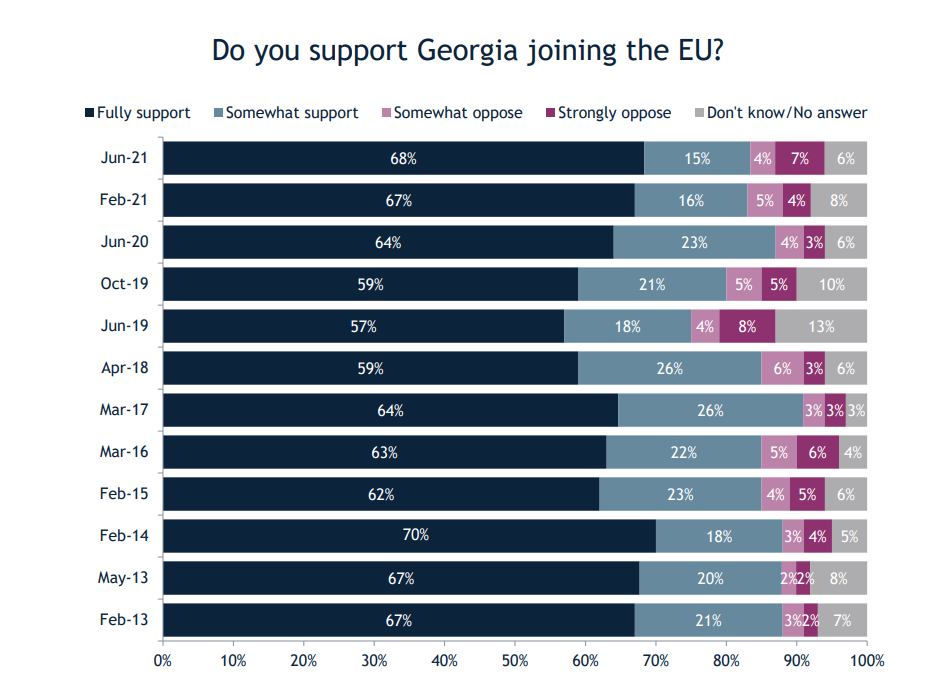 IRI poll: 68% of Georgians support joining EU, 77% - NATO membership
68% of Georgians support EU integration, while 7% opposes it, says a new nationwide poll conducted by the International Republican Institute's (IRI) Center.
77% of respondents support the NATO integration, while 8% strongly opposes it, IRI stated.
79% believes Russia poses the greatest political threat to Georgia, 15 % named Turkey and 5% – Azerbaijan.
56% fully supports further dialogue with Russia, 11% strongly opposes it.
44% of Georgians consider the EU the most important economic partner for Georgia.
As for the most important political partner for Georgia, 60% of Georgians named the US, 56% – EU and 32 -Ukraine.
32 % thinks Georgia's foreign policy course should be only pro- European Union and the West while 3% supports only pro-Russian.
This poll was fielded in June 2021 prior to the start of the pre-election campaigns for the October 2021 municipal elections.
This survey was conducted between June 15 and June 30, 2021. The sample consists of 1,500 Georgians aged 18+ and eligible to vote. The data was weighted for age, gender, region and settlement size. The margin of error is plus or minus 2.5%, and the response rate was 74 %.
See more below: