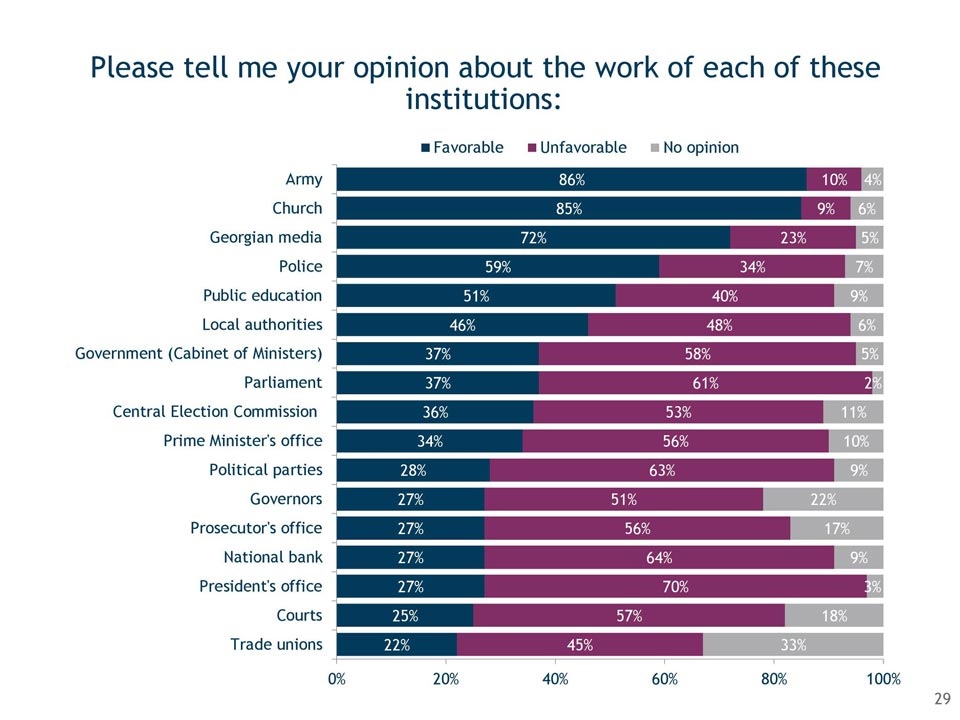 IRI: Army and Church lead in credibility rating
According to a survey by the International Republican Institute (IRI), the credibility rating of the army is 86 percent and the church is 85 percent. Media ranks third – 72 percent of respondents like the work of Georgian media and 59 percent of respondents like police work.
Indicators of trust in other institutions are:
Public education – 51%, Local authorities – 46%, Government (Cabinet of Ministers) -37% Parliament – 37 %, Central Election Commission – 36 %,  Prime Minister's office – 34%,  Political parties – 28%, Governors – 27%,  Prosecutor's office – 27 %, National bank – 27 %, President's office – 27 %, Courts -25 %.
Fieldwork for this poll was conducted by the Institute of Polling and Marketing and data were collected between September 11 and October 14, 2019. The survey was coordinated by Dr. Rasa Alisauskiene of the public and market research company Baltic Surveys/The Gallup Organization on behalf of IRI's Center for Insights in Survey Research through face-to-face interviews at respondents' homes. The sample consisted of 1,500 permanent residents of Georgia aged 18 or older and eligible to vote. The sample is representative of the general population by age, gender, region and settlement size. The margin of error for this survey does not exceed plus-or-minus 2.5 percent, and the response rate was 69 percent.