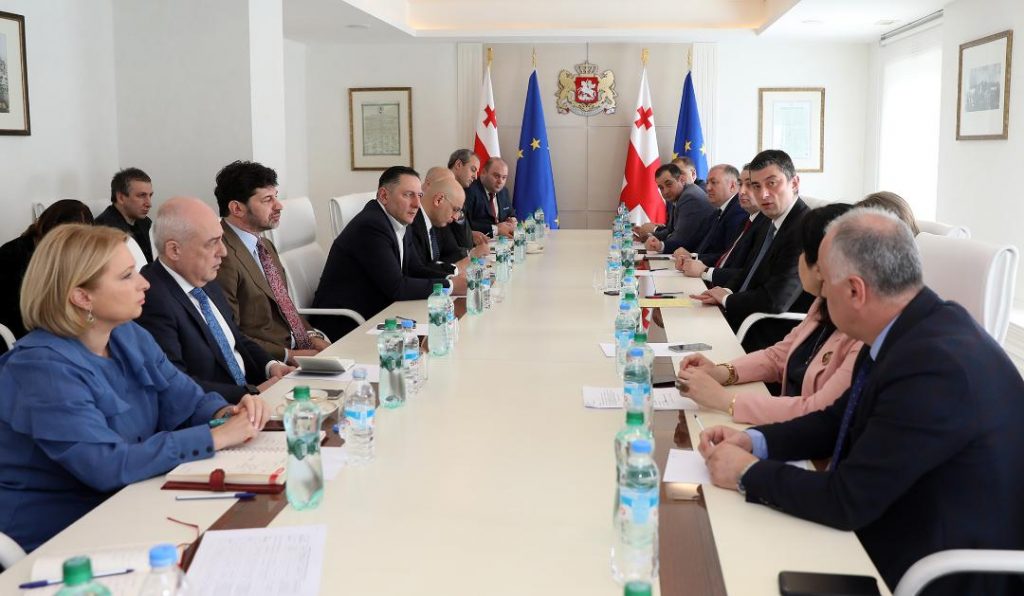 Inter-Agency Coordination Council takes new decisions amid COVID-19 outbreak
Inter-Agency Coordination Council headed by Giorgi Gakharia, Prime Minister of Georgia held its subsequent meeting today, Press Service of the Government Administration reports.
Georgian PM received information at the meeting relating to the health condition of 15 infected individuals, along with the global epidemic data and trends. It was noted at the meeting that the health condition of infected individuals is largely satisfactory in Georgia and even relevantly complicated cases have a stable flow. Patients are getting respective medical treatment.
Council members took new decisions within the scope of preventive measures to avoid a further spread of COVID-19 in the country:
"Public institutions have been strictly recommended to keep away from overseas business trips except for an extreme necessity. This recommendation also applies to study tours, which will be channelled through the system by the Ministry of Education, Science, Culture and Sports of Georgia," the Press Service said in the statement.
Furthermore, the Ministry of Foreign Affairs of Georgia briefed the Inter-Agency Coordination Council on the process of inbound entry of the citizens of Georgia from their current stay in Italy.
"Four hotlines operate round the clock at the Embassy of Georgia in Italy. Citizens of Georgia who purchased their outbound flight tickets from Italy two weeks ago reached out the authorities via the hotline. Registration is practically completed. Diplomatic mission of Georgia ensures a smooth operation of the hotline in various cities of Italy and transportation of Georgian citizens registered on the online platform of the embassy to Rome ultimately for their organized return to Georgia," the statement read.
Inter-Agency Coordination Council once again strictly calls upon the citizens who were instructed to stay away for self-isolation purposes during their quarantine, to demonstrate a higher social responsibility and adhere to the recommendations issued by the Ministry of Health of Georgia on self-isolation to make sure that no potential threat is caused to their family members and general public.