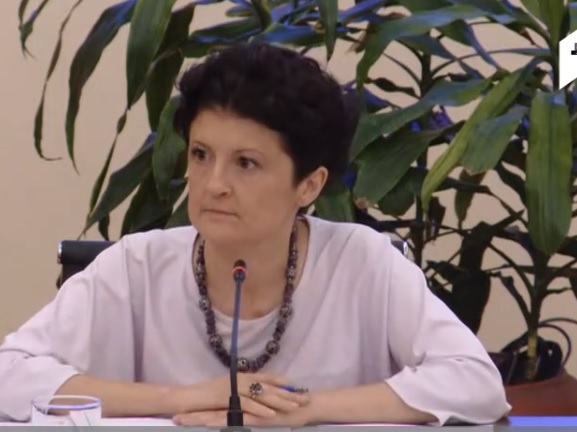 Hearing of Tea Tsulukiani at facts-finding commission ended after two questions
Hearing of Tea Tsulukiani, Justice Minister during the sitting of the Parliamentary Interim Facts-Finding Commission into Khorava Street murder case ended after 2 questions.
Otar Kakhidze, a member of the commission and MP of European Georgia Party asked both questions. Kakhidze inquired if Justice Minister knew Mirza Subeliani, former employee of Chief Prosecutor's Office. Tsulukiani responded that she did not know him.
The second question had to do with the statement made by Tsulukiani on May 31 where the minister said that she was against designation of former Chief Prosecutor Irakli Shotadze and was thanking him for his words "I will resign and they will now that I was right" while no search was conducted in Subeliani's house and questioning of eyewitnesses of the murder case was stopped for 14 days.
Tea Tsulukiani asked MP if he wished to receive a short or long answer. Kakhidze said he preferred simple Yes/No answer. Tsulukiani said that she was adhering to her statement made on May 31. The session ended. Tsulukiani wished successful work to the commission.
The commission questioned about 70 people during its 2-month-long work including the juveniles who participated in a bloody conflict. The commission conclusion will presumably become known in September.
The bloody conflict among school students at Khorava Street claimed lives of 2 juveniles on December 1, 2017.