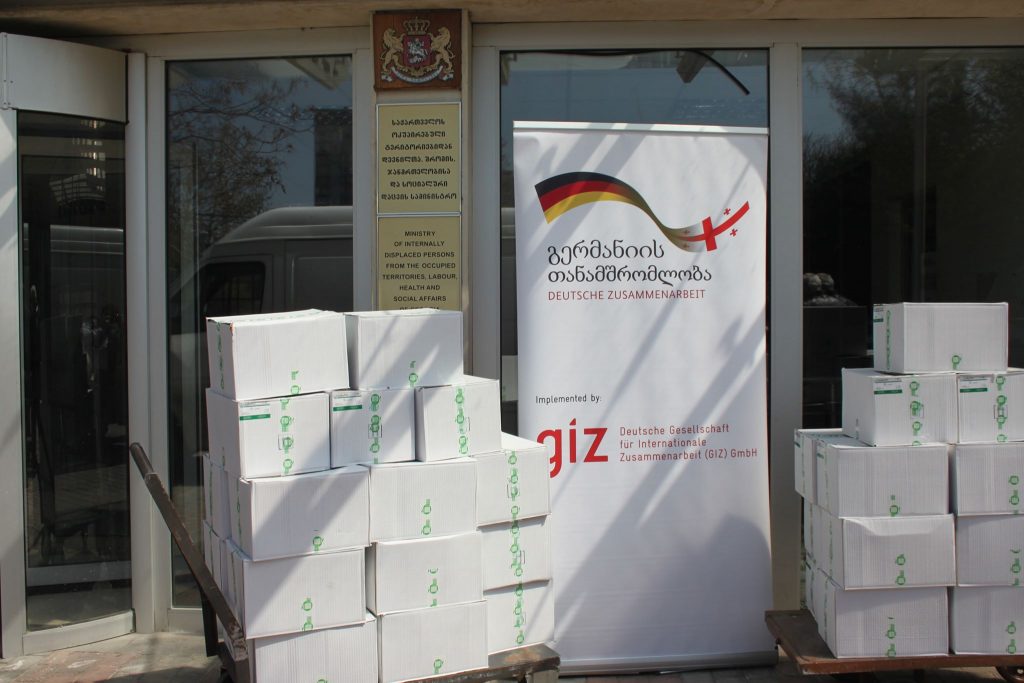 German Government's assistance to Georgia to Cope with Coronavirus Pandemic
On behalf of the German Government, Deutsche Gesellschaft für Internationale Zusammenarbeit (GIZ) provided Georgian partners represented by the Ministry of IDPs from the Occupied Territories, Labour, Health and Social Affairs with 100,000 face masks and 2000 liters of hand sanitizer liquid to cope with the Coronavirus pandemic.
"Especially today, when Georgia faces a challenge of global scale together with the rest of the international community, support from our partners is extremely important. This support, in particular, enables us to not only effectively cope with the virus, but it also assures our citizens that we are not left alone in these challenging times and can rely on our international partners. Donated gear will be distributed in Georgian regions to assist local administrations and medical staff in coping with the Coronavirus pandemic. We would like to thank the German Government and the people of Germany for this swiftly organised and important assistance during this difficult period our country is undergoing" – said deputy minister Mzia Giorgobiani of the Ministry of Regional Development and Infrastructure (MRDI) of Georgia.
Since 1992, with the funding of the German Federal Ministry for Economic Cooperation and Development (BMZ), GIZ has been actively supporting Georgia in the areas of good governance and democracy, sustainable economic development as well as environment and climate change, among other areas.
"We hope this limited, but timely support will enable medical staff and civil servants, who serve at the frontline of the Coronavirus pandemic, to safely perform their duties. It is paramount to support our partners in their efforts to adequately respond to the current crisis situation. Together we actively verify additional opportunities to promote the municipalities and regions during this crisis and beyond " – said Archil Zhorzholiani, Advisor on Regional Development of the GGLD programme.