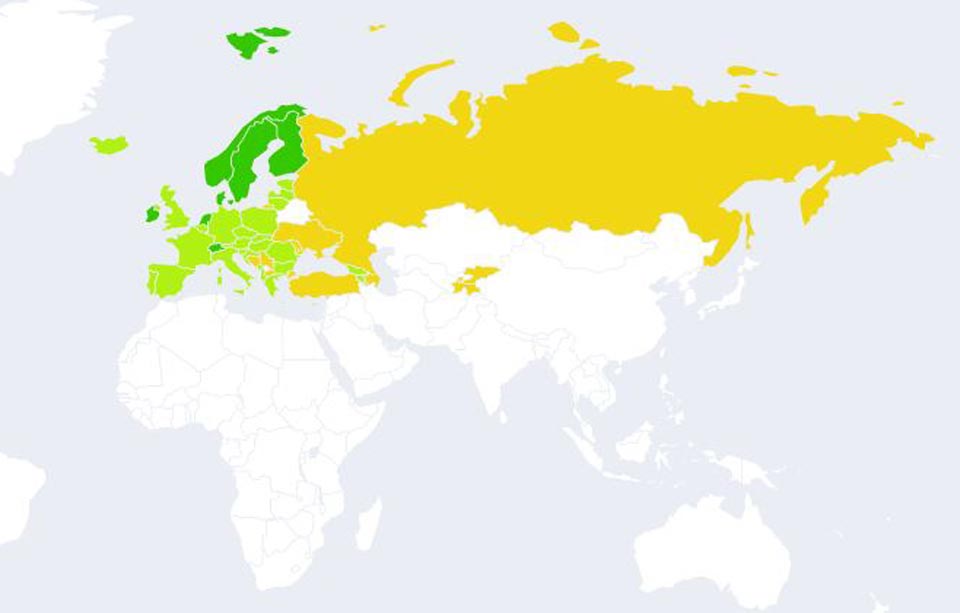 Georgia's "Freedom Barometer 2019"
The Friedrich Naumann Foundation annually publishes a list of "Freedom Barometers" for different countries around the world. The report summarizes the indicators of countries in regard to political freedom, rule of law, and economic freedom.
This year, Georgia is in the 27th position among a list of 45 countries and scored 69.06/100. Georgia's scores improved by 4.95 points.
Georgia is ahead of all its neighbouring countries and as well as Italy, Croatia, Bulgaria, Greece, and Hungary. However, in the post-Soviet space, Georgia is behind the Baltic states.
In the category of economic freedom, Georgia holds the leading position. Moreover, the report claims, Georgia is a leader by improving the freedom of the economy.
Georgia is the only country in Europe to achieve a one-point improvement in the economic "Freedom Barometers 2019," while only two countries (Italy, Armenia) have achieved a half-point improvement. In terms of economic freedom, Georgia's points have declined only in terms of freedom of trade internationally. According to this indicator, Georgia has 8.86 points, which is 0.08 points lower compared to the previous year. The reports said: "A gradual introduction of the EU standards in the economy and increase of the rate of standards` harmonization in areas such as sanitary standards and technical barriers to trade are underway."
As for political freedoms, Georgia is in the 35 th place. The study highlights the issue of freedom of the press in Georgia, which, according to the report, has improved significantly in recent years. However, the reports said: "there are still many problems remaining to be addressed. There is a wide variety of broadcast, print and online media outlets that operate in the country, providing citizens with diverse opinions. However, the reporting often tends to be biased, with media coverage reflecting deep political divisions in society."
Regarding the free and fair elections indicator, Georgia's scores declined by 0.36 and our country holds 6.43 points.
In the category of rule of law, Georgia is in the 29 th position. Georgia shows progress in terms of independence of judiciary, corruption, and protection of human rights. Regarding the corruption, the report said: "Georgia is less corrupt than one-third of the members of the EU and less than any of the official EU candidates from Balkans." In this respect, Georgia is ahead of Romania, Greece and Bulgaria. With its scores, Georgia is a leader in the Caucasus and the Black Sea, hence, behind the Baltic states.
Countries ranking – 2019 | Freedom Barometer Georgia 🇬🇪improves to 26 ahead of Italy 🇮🇹 and Greece 🇬🇷 https://t.co/KhaKxiLnp1

— David Lee (@david7000lee) February 25, 2020