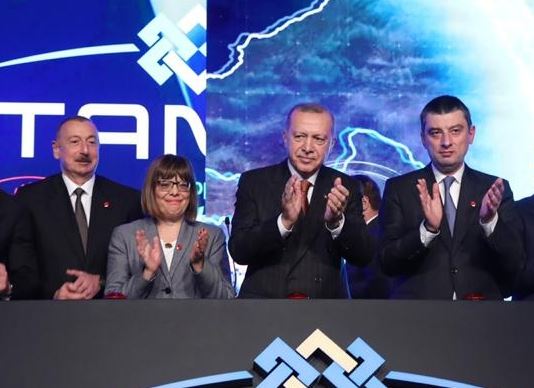 Georgian PM, together with Recep Tayyip Erdogan and Ilham Aliyev, Inaugurates TANAP in Turkey
Georgian Prime Minister Giorgi Gakharia, together with Turkish and Azerbaijani Presidents Recep Tayyip Erdogan and Ilham Aliyev, participated in an event celebrating the completion of TANAP.
As Prime Minister's Press Office notes, the official event took place in the Turkish province of Edirne. The leaders of the project's participant countries, by simultaneously pressing the start button, sent the first portion of the natural gas flowing from Azerbaijan to Europe under this project.
The Trans-Anatolian Natural Gas Pipeline is designed to meet Europe's and Turkey's demand for natural gas, and to diversify natural gas supply paths.
The project's value is 10 billion USD. The capacity of TANAP is 16 billion cubic meters of natural gas per year, and it is planned to enhance the pipeline's capacity in the future, namely to 23 and 31 billion cubic meters by 2023 and 2026, respectively.
Honored to attend #TANAP Inauguration Ceremony for European Connection, marking a new era in European energy security architecture. This project will bring more opportunities for our people & will strengthen our region's role as an East-West energy corridor. pic.twitter.com/1XQmQ1FuRz

— Giorgi Gakharia (@GakhariaGiorgi) 30 November 2019