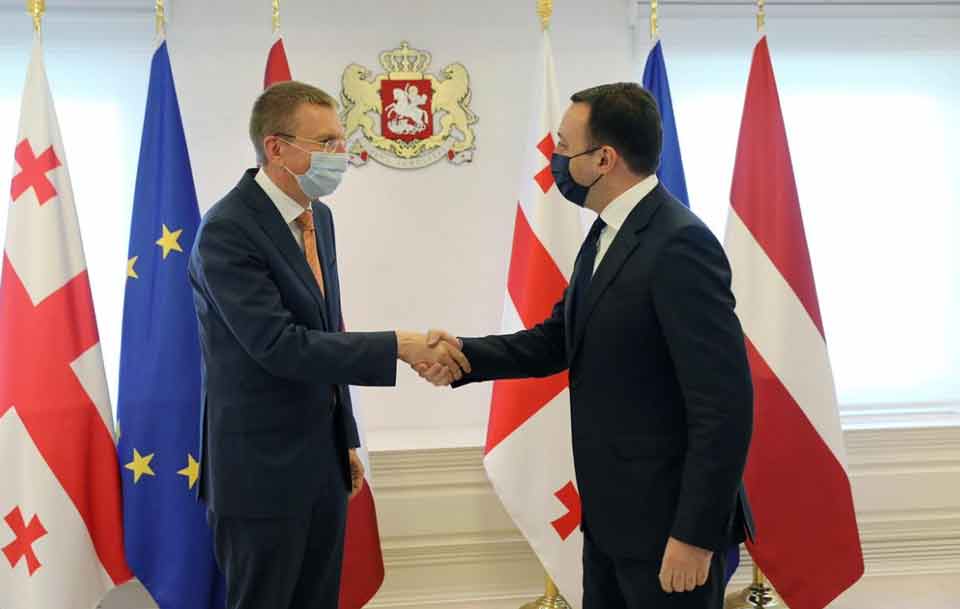 Georgian PM meets Latvian FM
Georgian Prime Minister Irakli Garibashvili held a meeting with Edgars Rinkēvičs, Foreign Minister of the Republic of Latvia, the government's press service reported.
The meeting focused on the relations between the two countries building on shared values and principles. Edgars Rinkēvičs' visit was commended as an affirmation of Latvia's firm support and the result-oriented partnership between the countries.
The parties discussed the economic cooperation between Georgia and Latvia, also emphasizing the importance of further deepening this cooperation, especially in the post-pandemic period. Special attention was paid to the challenges arising from the COVID-19 pandemic, to the special importance of vaccination in the fight against coronavirus, and the crucial role of the international community's solidarity to that end.
The meeting also discussed Georgia's steps toward EU integration, the political and economic reforms implemented in this process, and the country's progress toward Euro-Atlantic integration-as Georgia prepares to apply for full EU membership in 2024.
The meeting underlined the importance of the updated Substantial NATO-Georgia Package (SNGP) offering new avenues for cooperation. Irakli Garibashvili thanked Latvia for supporting Georgia's path to Euro-Atlantic integration.
The conversation also focused on the dire humanitarian situation in Georgia's occupied territories, also pointing out the importance of the Latvian Foreign Minister's upcoming visit to Odzisi, a village at the occupation line, which will enable him to familiarize himself with the situation on the ground. The Foreign Minister of Latvia reassured the Prime Minister of Latvia's strong support for Georgia's sovereignty and territorial integrity within its internationally recognized borders.
The meeting at the Administration of the Government was attended by Latvia's Ambassador Extraordinary and Plenipotentiary to Georgia Ingrida Levrence and Second Secretary of the Eastern Europe and Central Asia Directorate Aspars Mekons, while the Georgian side was represented by Vice Prime Minister, Foreign Minister David Zalkaliani and Georgia's Ambassador Extraordinary and Plenipotentiary to Latvia Thea Maisuradze.