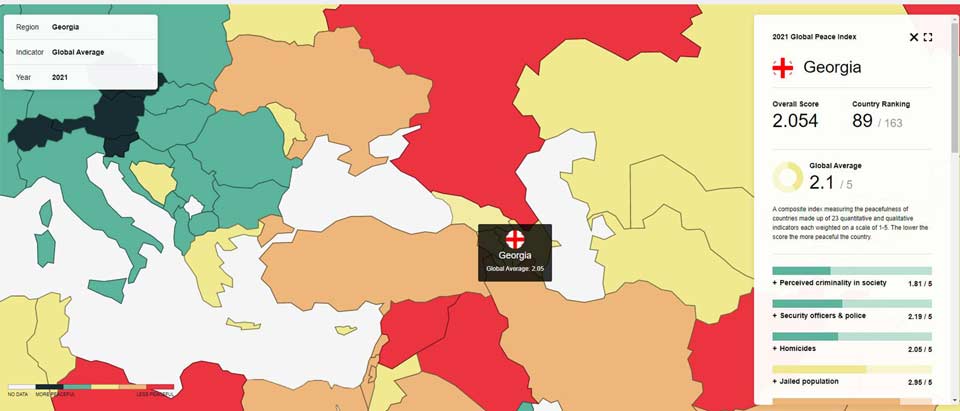 Georgia ranks 89th in 2021 Global Peace Index
Georgia ranks 89th of 163 countries in the Global Peace Index (GPI) and takes fifth place in the Eurasia region. The country's overall score stands at 2.05.
According to the report, Only two countries – Georgia and Sri Lanka – are 20 percent more peaceful in 2020 compared to 2008.
The top ten most peaceful countries include Iceland, New Zealand, Denmark, Portugal, Slovenia, Austria, Switzerland, Ireland, the Czech Republic, and Canada, while the least peaceful places are Syria, Yemen, and Afghanistan.
The GPI covers 99.7 percent of the world's population, using 23 qualitative and quantitative indicators from highly respected sources, and measures the state of peace across three domains: the level of societal safety and security, the extent of ongoing domestic and international conflict, and the degree of militarisation.
The Global Peace Index 2021 is now available.

⭕ Global Peace Index rankings
⭕ Regional & country overviews
⭕ Civil unrest & riots
⭕ COVID-19 effects and recovery
⭕ Militarism & terrorism
⭕ Perceptions of violence & safety

Download for free: https://t.co/PKVnnR7HiL pic.twitter.com/ZFXDKlKPFe

— Global Peace Index (@GlobPeaceIndex) June 17, 2021