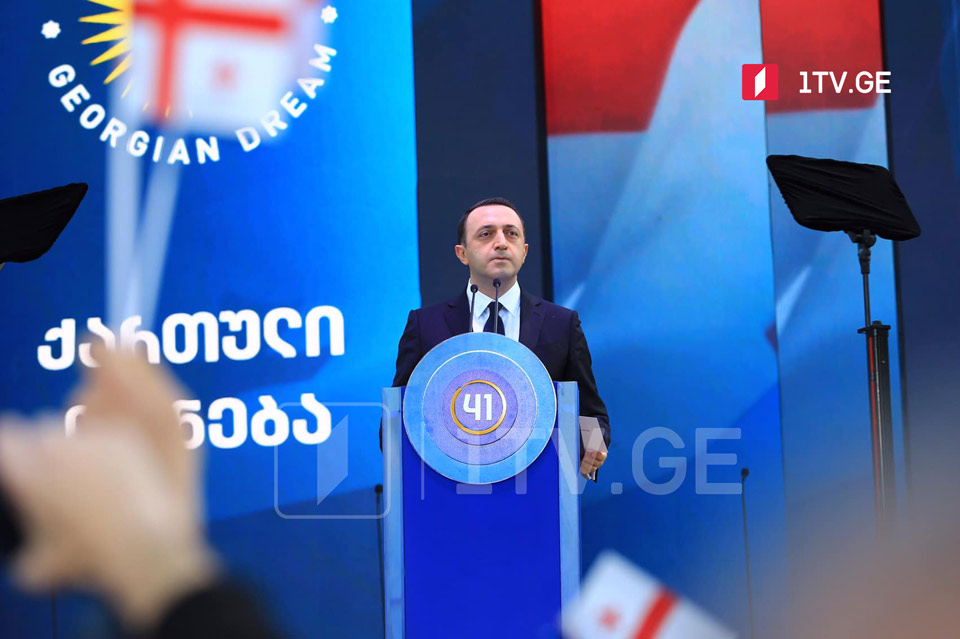 GD gov't citizen-oriented, PM pledges at pre-election rally
The ruling Georgian Dream (GD) party supporters are attending a closing pre-election rally at Liberty Square.
In an opening speech, Georgian Prime Minister Irakli Garibashvili thanked supporters for their "trust and dedication."
"People fighting for freedom have gathered at Liberty Square today, those who showed the strength and wisdom of the Georgian people in 2012 on this spot, the strong desire to live in a free, fair, democratic, peaceful and strong state. In a state where fundamental human rights, human dignity and freedom are protected," Garibashvili underscored.
PM Garibashvili believes in the history of independent Georgia, the governing Georgian Dream party "ensured peace and stability for the longest time and laid the groundwork for fundamental reforms."
"Most importantly, the government became citizen-oriented, serving people, feeling their pulse," Garibashvili asserted.
The Head of the government believes, with this rally, Georgian people will show the whole world "their choice and strength, which will defeat any evil, end destabilization, revenge of evil forces and ensure long-term, stable and peaceful development of the country."
"In a few days, the Georgian people will once again have to make a choice, not just between political parties, but justice and injustice, good and evil, peace and chaos, care and oppression, development and regression, and ultimately between Georgia's future or return to the past," PM added.
Grandiose "For Dignity and Freedom" rally is being held on central Feedom Square and adjacent streets and squares in Tbilisi in support of the governing Georgian Dream party, ahead of the run-off election on Saturday, which will seal GD's victory. pic.twitter.com/1P22uVFjW7

— Georgian Dream (@GeorgianDream41) October 27, 2021