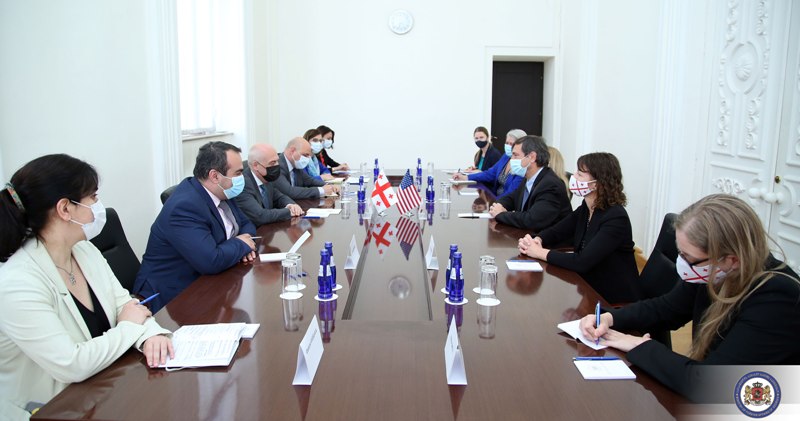 FM thanks the US for keeping Russia-Georgia conflict high on political agenda
Georgian Foreign Minister David Zalkaliani held a meeting with Andrew Schofer, Co-Chair of the OSCE Minsk Group of the United States of America and Kelly Degnan, US Ambassador to Georgia.
According to the Georgian Foreign Ministry, the current situation across the occupied territories of Georgia and opportunities to achieve progress during the internationally mediated Geneva Discussions were the main topics during the meeting.
The sides discoursed the ongoing processes in the region, Russia's provocative steps towards the de facto annexation of Abkhazia and Tskhinvali regions, the so-called borderization process, illegal arrests and kidnappings of Georgian citizens.
Georgian FM urged for the unconditional and immediate release of unlawfully detained Georgian citizens. He asked the American partners to make more efforts to effectively solve the security and humanitarian problems of the conflict-affected population. David Zalkaliani focused on the need for Russia to meet its commitments of the August 12, 2008 truce agreement and the safe return of IDPs.
The Foreign Minister noted that the Georgian government works on a comprehensive state strategy for peaceful conflict resolution and de-occupation. He thanked the US for keeping Russia-Georgia conflict high on the international political agenda.
The US representatives, on their part, reiterated support for Georgia's territorial integrity and sovereignty within its internationally recognized borders. They expressed gratitude to the Georgian government for its vital role in facilitating discussions between Armenia and Azerbaijan.
Azerbaijan released 15 detained Armenian citizens through the facilitation of Georgian Prime Minister Irakli Garibashvili and the US Acting Assistant Secretary of State for European and Eurasian Affairs Philip Reeker in exchange for maps of 97,000 anti-tank and anti-personnel mines on June 12.