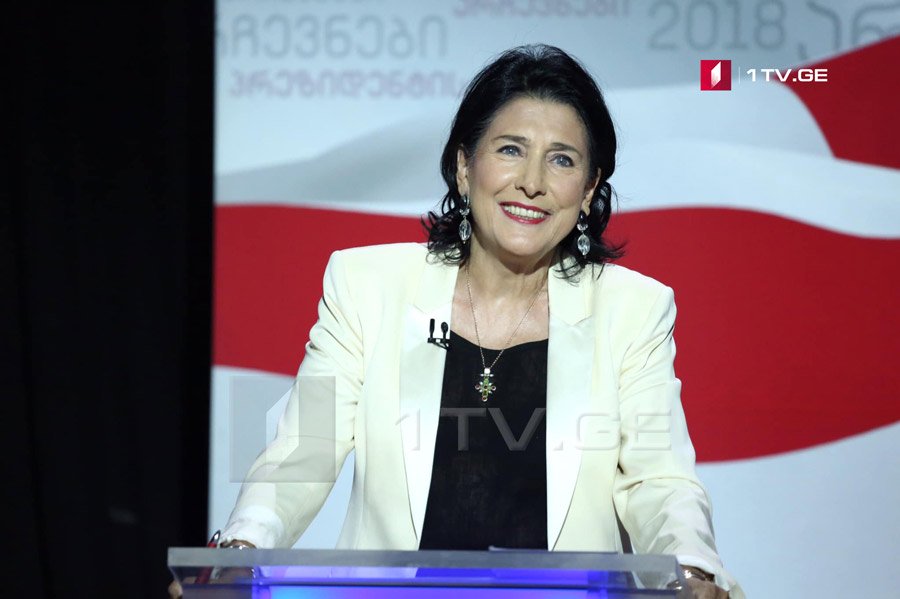 Financial Times publishes article by president-elect of Georgia Salome Zurabishvili
Georgia needs more support from the west to protect its values, – this is a title of the article published by Financial Times. The author of the publication is the president-elect of Georgia Salome Zurabishvili.
"It took a century, but I can finally see my grandparents' dream become a reality. On November 28, I was elected as the Republic of Georgia's first female president. This is a major leap forward for my nation, which has spent most of the past century grasped in the Soviet Union's claws", – Salome Zurabishvili writes.
president-elect of Georgia notes in her article that though her grandparents emigrated to France when Red Army invaded the country, they never lost their love for Georgia nor their hope that one day the country would again turn into a strong democracy.
"I too held that hope close to my heart, even as I was born and raised in France, educated there and in the US, and eventually became a French diplomat. I was consistently a strong advocate for Georgia, even when surrounded by those who were unaware of the then Soviet satellite's existence", – she added.
According to Zurabishvili, even under Soviet control, Georgia remained a beacon of hope for democratic freedoms and in April 1991, Georgia was the first nation in the Caucasus to declare its independence from the Soviets.
As she notes, this progress was hard won. "Those of us who wanted a democratic, progressive society along the western model had to fight for it. I view my electoral victory as a win for Europe and the west. Georgia is a trailblazer for democracy in the Caucasus region, and a close military ally of the EU and the US. However, Russia still aggressively occupies one-fifth of our nation, as it has since 2008. We will need the west's steadfast support to restore our territorial integrity through diplomacy", – President-elect writes.
According to her, she became a diplomat in the 1970s, when the cold war was still raging. As she notes the same struggles still continuing today, with a confrontational Russia trying to spread disinformation and sow division.
"As the country's first president with European roots, I will continue to defend western values from the destabilising influences of our northern neighbour. I will continue to fight for democracy to rid this country of the remnants of our totalitarian past. I will protect my nation and its liberal values", – She added.
As Zurabishvili states after taken office on December 17, she will seek to represent the Georgian people above party politics, as Georgia's new constitution expects of its president.
"I promise to guarantee Georgia's democratic development, individual freedoms and the rule of law. Mikheil Saakashvili, the former president, during his rule became more authoritarian. I will use all powers bestowed on the presidency to keep Georgia on a democratic path, and will not allow anyone to gamble with our freedoms", – Salome Zurabishvili states.
As president-elect says, she will draw on her decades of diplomatic experience to bring the country closer to its goal of joining the EU and Nato.
"Georgians are overwhelmingly pro-western and becoming a member state of the EU is a goal that transcends party politics" – Zurabishvili notes in her article.
President-elect pledges that she will make Georgia more attractive — to Georgians and non-Georgians alike. "Many young people now pursue education and then employment outside Georgia. My team and I will try to stem this flow by encouraging initiatives to foster a deeper connection between the youth and our nation. We will use state funding to facilitate a dignified return of young people educated abroad, so they can bring their knowledge to the fore of state-building. Under my leadership, I believe Georgia will prosper as a strong, democratic nation with progressive, western values. We will continue to be a beacon to our fellow nations in the region. We will strive to demonstrate that European democratic values have a home in the Caucasus. By choosing a female president of European upbringing, this country has voted for democracy, tolerance and stability. Georgia can be Europe's liberal hope", – Zurabishvili writes in her article.