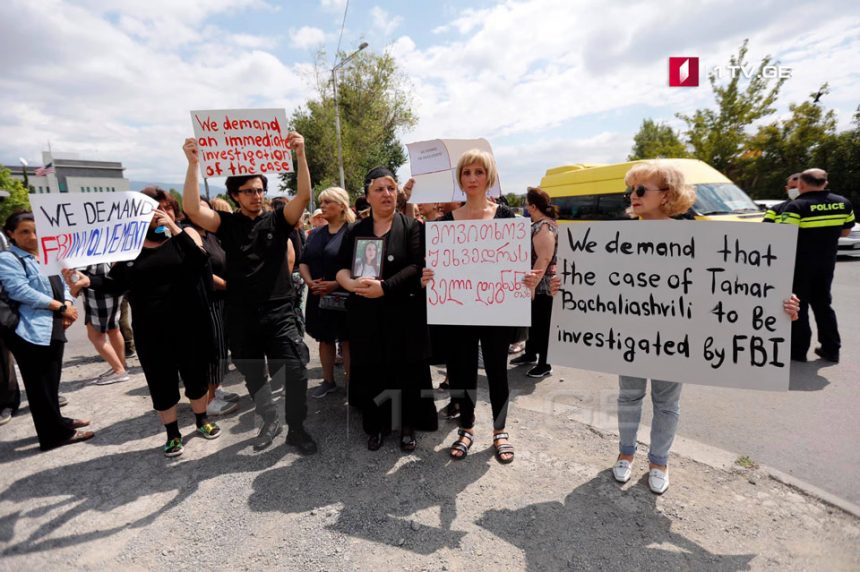 Family members of Tamar Bachaliashvili hold rally in front of the U.S. Embassy
Family members and relatives of the deceased Tamar Bachaliashvili held a protest rally in front of the U.S. Embassy in Georgia today.
The family members request a meeting with the US Ambassador to Georgia, Kelly Degnan.
Tamar Bachaliashvili's father, Jumber Bachaliashvili, said the rallies will continue until the truth about his daughter's case is clarified.
"This government must be overthrown, it is already dead. This government killed my daughter," said Jumber Bachaliashvili.
The mother of the deceased, Teona Tamazashvili, noted that if the FBI does not get involved in this case, she will start a hunger strike in front of the embassy.
Members of the movement "Shame" and Malkhaz Machalikashvili attended the rally as well.
After a 5-day search, Tamar Bachaliashvili found dead in her own car in a forest of Tetritskaro municipality on July 22.
The central department of Georgia's Interior Ministry has been investigating the death of a 23-year-old girl.