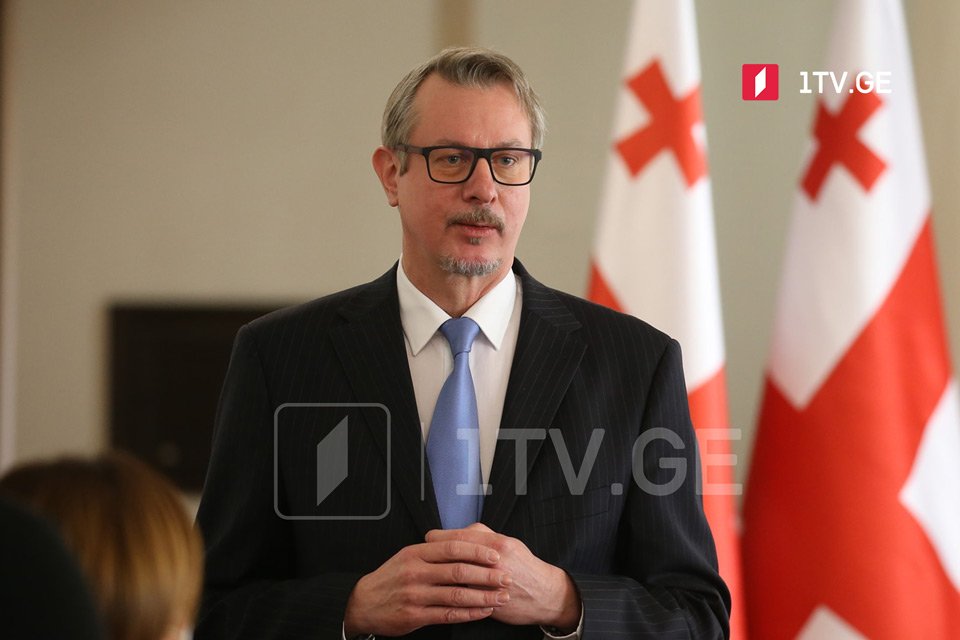 EU Ambassador to regret parliament's disregard to uphold judiciary reform commitment
EU Ambassador to Georgia Carl Hartzell expressed his regret over the Georgian parliament's failure to uphold the commitment to reform the judiciary in the country.
"Today, the Georgian Parliament voted in first reading on a number of important constitutional amendments that were tabled following the 19 April Agreement mediated by the European Union. Unfortunately, the key amendment on the election modalities of the Prosecutor General of Georgia was withdrawn.
This amendment was due to address the way in which the Prosecutor General of Georgia is appointed, with the ambition to increase the required majority to a qualified majority, in order to ensure the broadest, cross-party support for appointments and to reduce the risk that one party can, alone, appoint a Prosecutor General in the future. This was another measure aimed to increase the independence, transparency and quality of the Judiciary in Georgia. The principles behind this amendment have been a long-standing Venice Commission recommendation. Following Georgian Dream's withdrawal from the 19 April Agreement, we also took note of the Party's renewed and public commitment on 28 July, to nevertheless implement the judicial reforms and adopt the initiated constitutional amendments.
The European Union regrets that yet another commitment to reform the Judiciary was not upheld today. We recall that last July, further appointments to the Supreme Court, alongside those made over the past two years, were assessed by the OSCE/ODIHR "to lack integrity, objectivity  and credibility". Last week, in the context of the non-disbursement of 75 million Euro in EU macro-financial assistance, the EU noted that Georgia failed to sufficiently address the condition for this macro-financial assistance, and notably to increase the independence, accountability and quality of the judicial system. Today's withdrawal of the amendment is therefore a third setback within only two months, in terms of Georgia's commitments to reform its Judiciary.
The EU considers that strengthening safeguards in the field of the rule of law remains of crucial importance for the effective implementation of the EU-Georgia Association Agreement.
The EU renews its call on all parties to redouble their efforts to work together in an inclusive process in parliament to implement key reforms to the judicial system. We reiterate that while the European Union remains fully committed to support Georgia's reforms in line with the EU-Georgia Association Agreement, the EU's assistance to Georgia remains conditional on progress on key reforms," EU Ambassador said.
Georgian lawmakers approved the constitutional changes with the first reading by 126 votes pro and none con on Tuesday.