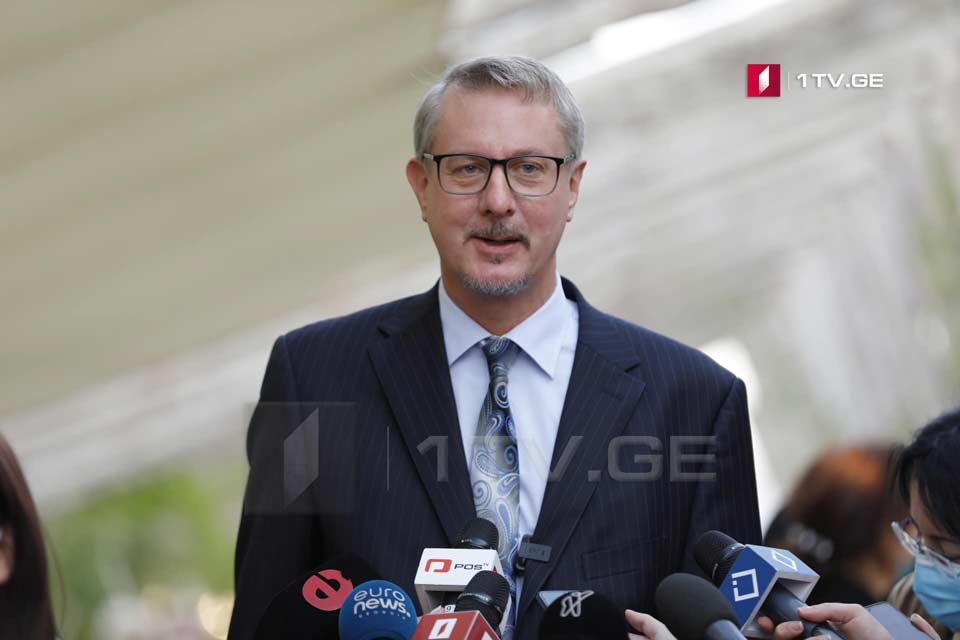 EU Ambassador: Clock is ticking, doors start to close
The date for the possible fifth round of the roundtable talks is still unknown, the EU Ambassador to Georgia and a facilitator to the negotiations between the ruling party and the opposition over the October 31 parliamentary elections, Carl Hartzell told journalists.
Speaking about the meeting with the ruling Georgian Dream, Carl Hartzell said the dialogue and the next steps were discussed. "In order to have the success that I for one wish to see, it will be important for all sides to think about how to move closer into forming that common ground, Hartzell said. It is necessary to get everyone on board.
The facilitator ambassador still believes there is room for the negotiations.
"I don't think that anything is closed that is why it is so important to keep looking for the common ground. The only thing I'm saying is the clock is ticking and doors are starting to close and everyone has to realize that," EU Ambassador emphasized.
Carl Hartzell noted that Georgia needs a parliament that is able to function and take responsibility for very tough decisions.
"I said yesterday and this is still true today that the clock is ticking. With these applications for the resignation of mandates, we are entering into a process that would follow certain logic when it comes to what will happen in one-week time or a bit after that. So, the handling underlines that we are coming to the end game. We continue our efforts; we are having talks with different sides to see whether we can find a common ground that would lead to a broad-based agreement in the end. I'm absolutely convinced that Georgia needs a parliament that is able to function and take responsibility for very tough decisions, which is needed with Covid-19, and everything else happening," the EU Ambassador declared.
The Ambassador said the facilitators will keep soldering on to see whether the final forward could be found. Commenting on the request for termination of mandates by the opposition, he added that he 'would not pass a judgment, because, at the end of the day, it is for every party to draw their conclusions as to what is the right way forward, but it is just to say that this hanging in of resignations means that the clock is ticking faster. That is something that everyone needs to take into account now, Carl Hartzell concluded.