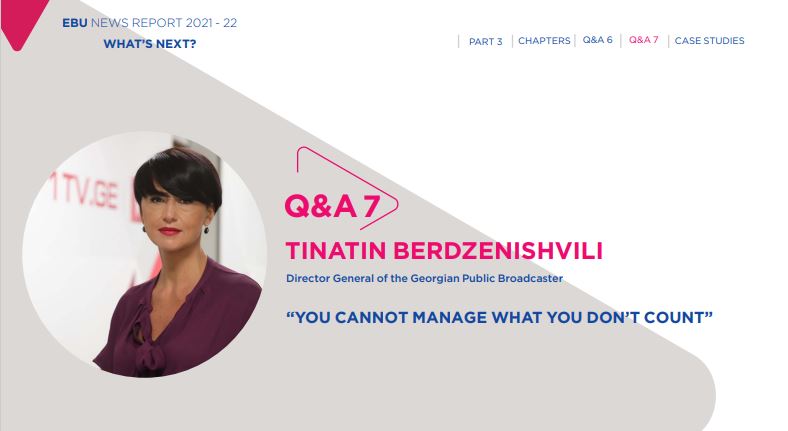 EBU News Report cites media sphere leaders, GPB Dir/Gen
European Broadcasting Union (EBU) published What's Next, the annual news report for 2021-22. The report touches upon public broadcasters efforts to intensify connections with the public while coping with various challenges.
The report includes more than 40 interviews with media leaders and experts, and Director General of the Georgian Public Broadcaster Tinatin Berdzenishvili is among them.
Based on the report, it is possible to transform the organization from the government-controlled state television into a media outlet that is considered impartial and reliable. Georgian Public Broadcaster (GPB) serves as an example. Tinatin Berdzenishvili elaborated on the challenges that GPB faced.
"Our public broadcaster was transformed from state television as recently as 2005. The attitudes towards us are still a bit post-Soviet; a lot of people think we are state television and we are obliged to serve the government. We are doing our best to serve our audience and explain to them: How are we different from commercial media, what are our core values? We have to explain this to officials the people, and journalists," GPB Director General says.
According to the report, the GPB strategy focuses on constructive journalism, taking the best examples of Western European models. "As management, we are trying to be very open. We are doing a lot ourselves and do not delegate too much, just to give examples, and be role models. Of course, it is not easy. Changing the culture takes time. Our communication is totally different from what it used to be. People are more engaged in organisational life. We have 700 people in our social media chat. As management we are trying to post everything that is important, giving people all the information they need. We are listening to their comments, and if something is changeable, we are doing that. They know they are important," Berdzenishvili says.
The EBU report underlines that media is very polarized in Georgia, and constructive journalism could be the best way to evade the situation when political discourse leads to a conflict among its participants or when the governmental control of the media limits general discussions.
"This is why we want to focus on constructive news. It is a means to demonstrate independence," Tinatin Berdzenishvili says. GPB Director General says the GPB will send its journalists to the Constructive Institute in Aarhus to have them trained with the objective to be "ambassadors and teach the others."
"We are just at the beginning of this journey," GPB Director General says. "Media is always a mirror of society, so you need different approaches in different markets. But yes, we take the best examples of Western European models and try to implement them here. Our best role model is Finnish Yle, we are quite similar in population size and structure," Tinatin Berdzenishvili says in the interview.